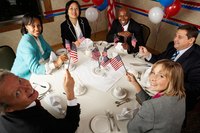 Whether you're raising campaign funds or attending a congressional speech, you want to make the most of every political function you attend, i.e., dressing for the occasion. You can look your best by familiarizing yourself with the proper dress etiquette for every potential function and dressing accordingly.
Men's Formal
Formal political functions such as balls and state dinners typically require black-tie or black-tie optional attire. Black tie for men includes: a black tuxedo jacket and matching pants; a formal, white dress shirt; a black bow tie; a black cummerbund or vest; dress suspenders; black, patent-leather dress shoes or formal pumps; and black dress socks. If the function is on a cruise or during the summer, men may opt to wear a white dinner jacket instead of the black tuxedo jacket. Black-tie optional means men may wear a dark suit, conservative tie, dress shoes and a white dress shirt.
Women's Formal
For women attending a formal political function, the key to dressing for the occasion is elegance. Black-tie and black-tie optional attire for women includes a formal floor-length evening gown, a dressy cocktail dress, or an elegant little black dress and dressy heels. Women may opt to wear dressy separates to a black-tie optional event. Keep your attire tasteful by avoiding gaudy or garish jewelry and accessories that may create an unflattering impression.
Business Formal
Political events such as breakfasts, lunches or mixers often require business-formal attire. Formal business for men includes: a black, dark blue or charcoal business suit; a conservative tie, a dress shirt, leather dress shoes and an optional vest. Women should choose between a suit, an office-appropriate dress, a dress with a jacket or blazer, and conservative heels. When wearing business-formal attire, both men and women should strive for a sleek, professional appearance by minimizing loud accessories such as themed ties or glittery jewelry.
Business Casual
Political functions such as picnics and other informal gatherings are typically relaxed and an appropriate time to wear business-casual attire. Business-casual attire for men includes: a blazer or sport coat; a casual button-down, open-collar polo or dress shirt; slacks, khakis or chinos; and casual dress shoes such as loafers. Women's business casual includes: skirts, khakis or pants; button-down or open-collar shirts; sweaters; and sensible dress shoes. When wearing business casual, men and women should avoid overly casual apparel such as sneakers, flip-flops, spaghetti straps and baseball caps. Your attire should be relaxed, but distinctly professional.