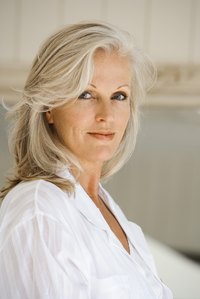 Mini, below-the-knee and maxi are just a few style descriptions used to identify dress and skirt lengths. As women age, a few key factors such as the event type, the dress silhouette and the cut should be considered when selecting the appropriate dress length. Other factors, like choosing lengths that flatter the body type and leg shape, facilitates the selection process. Combining these details eliminates making choices that are not as flattering and narrows the selection to the appropriate dress length for you.
Age and Dress Length Selection
Classic, timeless and polished are just a few words you want to associate with age appropriate dress lengths. Fashion expert Sharon Haver also points out the importance of other factors such as your shape, current trends and how you feel about the dress length. These elements give you the freedom and satisfaction to wear the dress length a few inches above the knee. Choose the skirt length that helps you feel chic, sophisticated and comfortable when daring to bare your legs. Always remember how you feel within. When you feel good about your look, that feeling exudes confidence when wearing new styles, ensembles or silhouettes.
Special Occasions
Garden teas, reunions and weddings are just a few events that generally require a new dress. Although tea length dresses generally fall 3 to 4 inches above the ankle, within the area below the knee and the bottom of the calf, keep your height in mind when selecting this type of dress. Make the appropriate hem adjustments with a professional tailor to find the right length that enhances your figure and legs. The same applies for ankle length dresses with full sweeps. The sweep is a technical term describing the bottom hem's circumference or all-around measurement. This style, often seen in maxi dresses, can give a frumpy look and age you.
Business Attire
As women remain in the work force longer, business as well as second career attire needs to remain current and in trend. Think of the type of industry you are remaining in or entering. For example, if you are entering the corporate world later in life, a variety of below the knee dresses like pencil skirt-inspired silhouettes are appropriate for daytime wear as well as for transitioning into night. If you are entering the fashion industry such as a fashion magazine, stylish knee length dresses will blend you in with the rest of the employees.
Lifestyle Wear
Weekend, leisure travel or lifestyle dresses for shopping and errands on warm days often call for above the knee or mini dress lengths. Keep in mind the silhouette and style of the dress length. For instance, if the dress appears girly, young or juvenile, the style most likely is not appropriate. Flounces and ruffles with frilly eyelet and lace edges generally are also associated with tween, junior and young women's attire. As summer emerges, mini tank dresses come out. Sometimes, mature women attempting these styles look dated with a sense of unwillingness to change. Always remember, celebrating your life experience is the sexiest attitude for any dress length you wear. However, know your body and what looks best to accentuate it.