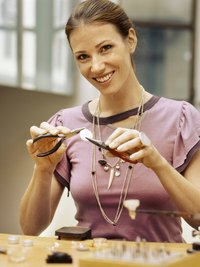 A little dust and rust on broken jewelry is no reason to pass it by. With creative motivation and a few supplies, you can transform those pieces into necklaces that fit you perfectly. Celebrating the beauty of old glass, pearls and metal is a way to pay tribute to history and make an artistic statement about yourself. The items you work with can include brooches, beads, filigrees, charms and even wire.
Getting Started
Making necklaces requires a few tools you can buy at a craft store or art shop. A basic jeweler's toolset includes wire cutters, a jeweler's hammer, a wooden or rubber mallet, pliers, a crimping tool and soldering iron. Also consider coloring agents such as silver blackener, which can convert a gold-tone into brass or black tone within seconds. Make sure to take precautions with all solvents and supplies. You'll also need some vintage items to work with. Look in flea markets, antique stores and consignment shops for jewelry with upcycling potential, but first search your own collection -- a forgotten heirloom might become the feature piece of your first composition.
Brooches
Brooches and pins were popular decades ago, but today they usually collect more dust than compliments. Reintroduce a brooch to the world by turning it into a pendant. Snip off the pin and its backing with wire cutters. Attach the brooch to a chain or ribbon by soldering a ring or bail to it. This can be challenging, so think the process through before making permanent modifications. Another use of old brooches is to gather several into a single piece. Use copper wire, which is soft, malleable and inexpensive, to weave them together through the backs. Hang the design from a sturdy ribbon, silk cord or chain.
Beads and Stones
Beads, pearls and stones rarely lose their beauty with time; in fact, they usually acquire a little mystique with age. But sometimes older strands aren't wearable. Maybe the clasp is broken, your neck is a little larger than the standard 1940s size, or the string holding the beads in place has become brittle. If you have a collection of vintage beads, stones and pearls you love, look for projects that will put them on display. For example, you can turn a few beads into "eggs" to feature in a wire bird's nest necklace. You can also restring the beads yourself: Try combining two types of vintage beads together, such as pearls and crystals, and connecting them with new chain and jump rings.
Metal and Wire
Don't let the glitter and charm of stones and pearls let you overlook metal and wire that can also be reclaimed. Filigrees, rings, bails, wire, connectors, clasps and hooks can pull a piece together and make an interesting contrast against modern materials. If the metal is dirty, put it into a rock tumbler to shine it up while you dream about your next creation. Also look around for advice and ideas from the jewelry recycling community. The book "Vintage Revised Jewelry" by Nichole Bush, for example, provides details on creating new compositions out of old or outdated pieces.