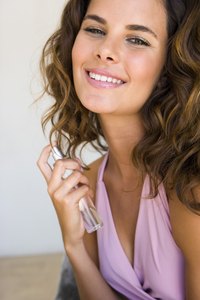 It's been scientifically proven that amongst all the five senses, the sense of smell is the most proficient in arousing passion and excitement. Yet, when it comes to enhancing the effects of your perfume to last the day, few people know how to choose a signature scent. While there isn't a specific scent which lasts longer than 4 to 8 hours, there are certain ways to make a fragrance linger, exciting the senses of those around you for long after you're gone.
Moisturize
Dab on a bit of lotion after applying perfume to allow the scent to linger on your skin rather than be absorbed. For you see, the time duration for which a perfume lasts depends on your skin tone as perfumes are composed of oils which are absorbed by the skin. People with darker skin tones have more oily skin and, hence, have an edge over those with lighter skin tones in that scents last longer on them. On the contrary, people with lighter tones are known to have dryer skin and the scent won't last as long, because oils are absorbed faster by their skin.

Shop Wisely
Brush up on perfume jargon before running off to the store. This will save you from investing in a perfume that wasn't meant to last long in the first place. On the weaker end of the scale is Eau de Toilette which has a low scent concentration, thereby making it one of the faster fading perfumes. It's usually sprayed to refresh pillows, towels and bed spreads. Eau de Parfum has a higher concentration than it's Toilette counterpart. With a few heavy spritzes the scent is achieved, and it's the longest lasting perfume. True Perfume is the highest concentrated perfume and most expensive. A few dashes of this scent is all a woman needs, although, depending on the components it may or may not last long.

Apply to Your Pulse
Apply perfume on the pulse points. In layman terms, these are the areas where the blood vessels are closest to the skin, such as the inner wrists, cleavage, behind the ears, base of the throat, back of the neck, behind the knees and inner elbows. These areas emanate heat and thus emanate fragrance if the perfume is applied to them.

Apply the Right Way
Do not rub the wrists together after the application of perfumes. This damages the layers of perfume or, in simpler terms, crushes the fragrance. Do not spray perfume after putting on your clothes and jewelry. Not only can perfume harm fabrics and stain jewelry, but it will also lose its natural scent in the fibers of the cloth.