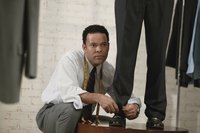 The number of terms used to describe clothing worn on a man's lower half can get confusing. Whether these items are referred to as pants, slacks or trousers, they all mean slightly different things -- even though the time to wear them is often interchangeable. Understanding the various types of pants worn with suits helps you make an educated decision about which pant to sport for any given occasion.
Slacks
Slacks in general refer to a dress pant, sometimes paired with an off-the-rack suit, but usually sold separately. Slacks are generally a little looser fitting than actual suit pants -- the latter through styling or tailoring feature a more fitted look. Slacks are strictly informal and are usually worn in business-casual environments, or with deconstructed suit jackets or blazers.
Trousers
When the term trouser is used in the traditional North American sense, it conveys a formal pant featuring various style-specific accoutrements. These features include belt loops, fly fronts and a degree of tailoring. Trouser pants are typically worn in formal occasions; however, in the United Kingdom, trousers is a term used to describe virtually any pant, ranging from basic khakis to tuxedo dress pants. In the case of formal wear, tuxedo pants should always be teamed with a matching jacket, never worn in informal or casual circumstances.
The Chino Variable
Although chinos are widely confused with khakis, the real meaning for the term is that of a dressier, tailored and flat-fronted pant, and lighter in weight than most khaki pants. Chinos often look like a khaki pant, featuring a smoother, thinner feel. Chinos are often paired with tan-colored suits, as the term is meant to be associated with the light tan or stone color originally used when chinos were strictly military pants.
Rules for Wear
Regardless of what the garment is labeled as, you should always examine the physical and stylistic properties of the pant to determine what it is. It is considered strictly informal or business casual to wear a mismatched pant with a jacket. It's therefore best to choose a complementary blazer for pairing rather than attempting to match the fabric and color exactly to make a trouser out of a pair of slacks.