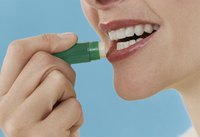 When it comes to lip balms, your options are nothing if not diverse -- petroleum jelly, cocoa butter, shea butter, coconut oil, lanolin and a slew of other lip care products line the shelves of virtually every pharmacy and cosmetics supplier. Naturally occurring beeswax packs a punch when it comes to moisturizing and protecting your lips, all while going easy on the environment -- something that can't be said for some of its competitors.
What Is Beeswax?
Beeswax, used in everything from lip balms to candles, derives from the lipid- and hydrocarbon-based secretions of honey-gorged young bees. Bees use this wax to protect their brood, cap ripened honey and seal cracks in the hive. Beekeepers typically collect the high-quality beeswax used in cosmetics by removing the wax caps during honey extraction. When used in lip balm, beeswax essentially forms a seal over your lips, which helps keep them from drying out.
Key Benefits
As beeswax forms a protective seal over your lips, it helps lock in moisture, which helps soften lips; it also creates a pleasing sheen. Because beeswax is biologically active even after processing, it contains skin-friendly antioxidants and even has some anti-bacterial properties. As a non-water-soluble substance, beeswax helps protect your lips even in wet conditions.
In Comparison
The benefits of beeswax trump the alternatives in a number of ways. While ingesting petroleum jelly may cause queasiness or diarrhea, beeswax has no such effects. Further, some petroleum products may contain polycyclic aromatic hydrocarbons, cancer-causing agents that are not present in beeswax. Products containing salicylic acid, a skin irritant, may foster lip balm addiction; beeswax, on the other hand, contains no skin irritants. On the downside, beeswax lip balms tend to cost more than other lip care options.
Environmental Benefits
Using beeswax not only helps your lips, it lends a hand to the environment. While petroleum jelly comes from nonrenewable resources, beeswax derives from a natural, renewable and eco-friendly source. To be sure that your beeswax lip balm comes from the greenest sources, look for the "USDA Organic" or "Natural Products Association Certified" seal on the label.