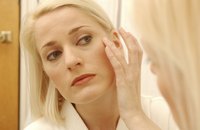 There are countless concealers available. Whether they will be effective depends on various factors such as your skin tone and type. Skin that shows signs of aging will need a concealer that goes on smooth and lasts throughout the day. You'll want to look for a concealer that reflects light and moisturizes to make eyes appear fresh and vibrant. At the same time that concealer must avoid clumping into wrinkles and creases. Knowing what to look for in your cosmetics will help you find a concealer that works for you.
All-Day Staying Power
Seek out a long-lasting formula. If the label makes claims that it will last eight hours or more, that's a good sign. If you need your makeup to last beyond the office, then seek a concealer that can last 12-16 hours. By investing in a concealer that lasts throughout the day, you're likely to avoid a formula that will fade or clump into creases.

Light Reflecting
Avoid heavy formulas that clump onto the skin to cover spots. Seek out sheer, light-reflecting concealers to brighten eyes. These types of concealers will give radiance to the skin for a fresher look while covering wrinkles. Whether your aim is to combat dark circles, decrease puffiness or hide wrinkles, a concealer with a light-reflecting formula will instantly brighten eyes.

Moisturize
A good concealer will moisturize your under-eye area. Skin under the eyes is delicate. As you age, this area is prone to dryness and dry skin only emphasizes wrinkles. De-emphasize lines with a formula that hydrates your under-eye area to revive tired eyes. Seek out ingredients such as vitamin E, which is highly moisturizing for the skin.

Line Smoothing
Flaunt younger looking skin with a concealer that helps banish wrinkles and fine lines while concealing them. Green tea is a natural antioxidant used in cosmetics to reduce fine lines. Goji berries and haloxyl are other line-fighting ingredients. Carefully read the label to understand what it's doing for you. If your concealer can help reduce wrinkles, the best-case scenario is in a few month's time, you may not feel the need to apply it anymore.
SPF Protection
Seek out a concealer with SPF to protect the delicate skin around your eyes. Although not necessary in a good concealer for under-eye wrinkles, SPF will aid in the fight against wrinkles. Skin damaged by the sun is prone to signs of aging; so blocking out a few UV rays is smart beauty!.