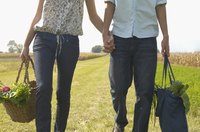 It seems jean styles are constantly evolving. One day you're shelling out $100 for pastel-pink skinny jeans and a few months later you're hauling them off to your local consignment store to trade for store credit. But two classic styles, bootcut and straight leg, have officially withstood the test of time. Which one is right for you? Straight legs have quite a few advantages, but the bootcut is no slouch either -- whatever your denim needs, there's a perfect pick for everyone.
Tighter Fit
While bootcut and straight jeans are virtually the same from the knee up, the main difference comes in the lower half. Bootcuts are bigger at the bottom -- usually about 1 to 2 inches wider than the knee area -- to fit over your boots. Straight-leg jeans are the same width from the the knee to ankle, giving you a streamlined look that's a bit more forgiving than their skinny-cut counterparts.

Lengthen Your Legs
When you pull on your favorite pair of blue jeans for a night out on the town, you want to look your best. For women especially, longer-looking legs is an illusion many strive to achieve. Enter straight leg jeans, which do just that. Unlike boot cut jeans, straight legs create one continuous line for the eyes to scan down, making the wearer appear taller and a bit slimmer. Bootcuts are better at balancing the frame if you have wider hips and thighs.

Show Off Your Body Type
You work out hard at the gym and are proud of your figure, so it's a good idea to reward that sweat and determination by showing off in the right pair of jeans. Straight legs allow those who have narrower hips and thighs highlight a svelte shape. Conversely, bootcut jeans might be the right choice for individuals who want to minimize their bottom and thighs, as the visual distance between the hips and ankles is diminished with this type of cut.

Showcase Your Shoes
We all know shoes can make or break your entire look. While bootcut jeans have the built-in property of hiding chunky wedges and boots, straight leg jeans actually allow your shoes to shine, thanks to the narrower cuffs. Throw your favorite long riding boots on right over top of them or strap on those hot new heels -- then wait for the compliments to roll in.