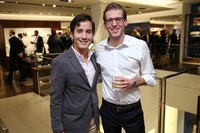 You've finally had your 30th birthday and, whether you like it or not, you're a full-fledged adult. You've reached an age when, among other things, the wardrobe of your youth is no longer appropriate. It may sound depressing, but you'll soon find that the right clothes will help make you look more dapper and polished than you ever did in your twenties.
Business Formal
You're a professional now, and it is imperative to your career that you look the part. It's time to throw out the bargain suits and invest in mature yet stylish business-formal attire. Your wardrobe should include at least one dark, well-tailored suit that fits your physique perfectly; a number of broadcloth dress shirts, the staple colors of which are white and pink; solid, conservative ties; black leather lace-up dress shoes; and a supply of dress socks, cuff links, pocket squares and collar stays.
Business Casual
Although you may spend a significant portion of your time in an office environment, you should also have business-casual attire available at your disposal. Make your personal sense of style visible, but do not allow it to override your professional appearance. A business casual wardrobe will include tailored blazers or sport coats, khakis, chinos, slacks, fitted dress shirts, casual button-down shirts, open collar shirts, polo shirts and loafers. Everything you wear should fit your proportions. Wear belts or suspenders to ensure that your pants never sag and avoid billowing shirts, which can look sloppy.
Dressy Casual
When you leave the office, leave the wardrobe too. Wearing your three-piece suit to a club can make you appear stuffy. Dressy-casual attire will help you look relaxed yet polished. Dressy-casual and business-casual seem very similar, but they are worlds apart when worn correctly. For example, roll the sleeves of a brightly colored dress shirt and pair it with dark wash denim and loafers for a stylish club look. Similarly, you can wear an open collar shirt with a dark blazer or vest, slacks and loafers for a night out with friends or a dinner date. Make the most of your wardrobe by selecting well-designed clothes that are made with high-quality fabrics.
Casual
Your casual attire should reflect your personal taste and sense of style, but it should also reflect a measure of age-appropriate maturity. The cut and styles of your jeans and shorts should fit you comfortably, but they should not sag. Whether you prefer skinny jeans, cargo shorts or relaxed fit jeans, most importantly, they should be clean, not have holes and flatter your physique. Polo shirts, casual button-down shirts, T-shirts, turtlenecks and sweaters are all appropriate and stylish, but should be free of graphics. Hoodies should only be worn in the privacy of your home. Take advantage of the time when you don't have to wear dress shoes by slipping into comfortable footwear such as sneakers, boat shoes, sandals, and any variety of slip-ons you can find; but leave your flip-flops at home.