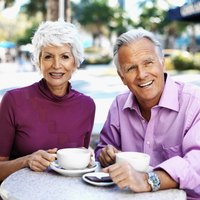 Purple is created through a combination of two opposites -- red, which is classified as a warm color, and blue, categorized as a cool color. Like other colors, purple appears in a spectrum of tones. From the soft, pale hues of lilac and lavender to the rich, deep shades of eggplant and plum, purple can convey numerous messages through the vehicle of fashion. Understanding what purple symbolizes can help you control the message you send when you wear it.
Religion
Medium and deeper shades of purple are associated with spirituality and often are incorporated in clergy vestments. Purple also was traditionally associated with death and mourning, though not as much in modern times. One such tradition involving purple that has persisted is that a cloth in the shade of violet or a darker purple is draped in sanctuaries or on a cross during Advent to symbolize the suffering and death of Jesus Christ and His royalty as the Risen King.
Royalty
Richer shades of purple may be perceived as luxurious. For this reason, it is a favorite color of royalty and nobility and a traditional color in robes and crowns. Amethyst, a purple precious gem, also is associated with royalty. Some may perceive purple as pompous because of this connotation, author Leatrice Eiseman notes in "More Alive with Color." The first purple fabric dyes trace back to about 1900 B.C. and were exclusive because of their limited availability and high cost. During the Elizabethan era, English law determined who was allowed to wear purple – reigning royalty and some of their relatives. Some Roman emperors also wore purple, restricting its wear by commoners because they viewed it as a regal color.
Romance
Lavender, lilac and other pale hues of purple lend an air of romance, possibly because of their similarity to pale pinks – other colors associated with romance. Men often wear lilac and lavender as accent colors, usually in a necktie or shirt, but the hues are more popular among women. As Liz Claiborne spokeswoman Gail Garramone said in an interview in the Pittsburgh Tribune-Review, purple makes a woman appear "sophisticated and elegant."
Tips
It's likely that everyone can find a shade of purple to complement individual skin tone. Regardless of tone, purple is such a visceral color that it should not be worn monochromatically. As the centerpiece in a dress or trousers, purple should be complemented with neutrals such as white, black or gray. As accessory, it looks best when used sparingly -- some combination of jewelry, hosiery or a belt, bag or scarf. Different shades of purple can complement a look, but too much may appear tacky. Purple shoes are such a powerful look that a lot of purple elsewhere could be overkill.