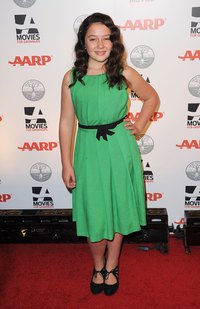 When the little girl in your life is wearing a beautiful emerald green dress that calls for an equally special pair of shoes, translate your own style choices into footwear that works for a child. Create the same classic color combinations you would wear for your own ensemble while translating the idea of your adult footwear into a comfortable silhouette that supports delicate, growing feet.
Rocker Edge
Whether it's time for a birthday party or a day of window shopping together, create a more casual, edgy look if your little fashionista appreciates emulating the stylish adults around her. Visualize the pair of black, stiletto-heel ankle boots you would reach for -- perhaps with buckle-and-strap detailing -- and look for its child-friendly counterpart. Think flat, black leather booties with tonal strap, bow or rhinestone detailing and a zipper closure for easy on and off.
Dainty
For the little girl who looks brilliant in clean lined clothes that leans toward the preppier side of styling, opt for a pair of ballet flats in suede or leather in place of the pumps you would typically wear. When pairing flats with an emerald green dress, she has a ton of options. For a classic take, reach for black flats. Or, if she has an adventurous side, consider a pair of jewel tone shoes, such as amethyst or blue sapphire for a more feminine, dainty pairing with her emerald dress.
Warm Weather Ready
When she's wearing an emerald green sundress and you're looking for a way to keep her feet comfortable while showcasing her adorable dress, reach for a pair of ankle-strap sandals. Much like the high-heel sandals or heeled d'Orsays with ankle straps you would choose for an elegant appearance, go for a pair of flat sandals with a single strap across her toes and a heightened ankle strap. Opt for a cream or nude color for a more conservative approach. Or, amp up the spring or summer styling with a pair of sandals in more jewel tones, such as peridot or citrine.
Classic
If you managed to find her an emerald green dress that will transition from cool weather into warmer weather, reach for shoes that will do the same with a pair of T-straps. Consider a pair of classic, patent leather Mary Janes in navy or black; these flats pair well with tights, cotton socks or bare feet. Or, look for d'Orsay T-strap shoes for little feet in any neutral hue, whether matte or metallic. Navy, black, silver or gold all pair well with a rich green frock.