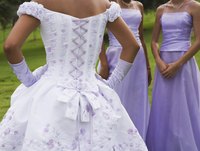 Unless you live in a desert climate, an evening wedding in March will likely be chilly. Luckily, any formal dress can be worn, as long as you have the perfect cover-up on hand. From boleros and cardigans to blazers and wraps, there are many options that will keep you warm as well as fashionable. Paired with the right dress, these additions will not only help you fight the chill of the evening air, but also will make you look seriously stylish.
Dress and Bolero or Cardigan
A beautiful bolero is the perfect cover-up for an evening wedding. Not only will it keep the chill of March evening air at bay, there are many boleros made specifically to match formal dresses worn at weddings. A cardigan is also a great option to wear to an evening wedding. Many bridesmaids even use matching cardigans as coverups for their bridesmaid's dresses. A cardigan can be simple or ornate depending on the style you are hoping to achieve. For some sparkle, a brooch can liven up a plain cardigan, easily taking you from day to night.
Dress and Wrap
A wrap -- such as a shawl, scarf or pashmina -- is also a versatile piece that is ideal for evening weddings. The wrap can be worn in many ways, which makes it flattering for all body types. A simple shawl draped over your shoulders not only looks elegant, but it will also keep you warm if the weather gets too chilly. A velvet wrap can be a particularly luxurious look, especially if the wedding calls for a dose of glamour. Pair it with a sequined bag for the perfect mix of glamorous and bohemian.
Dress and Blazer
A blazer is a smart and elegant piece to wear to an evening wedding. A well-fitted blazer can add a touch of chic to any dress, as well as keep away the cold. A blazer can add some structure to a fitted strapless dress or lend a bit of masculine edge to a more feminine dress. Try wearing an oversized belt cinched at the natural waist to create an hourglass figure with your blazer.
Long Sleeve Dress
If a cover-up is not an option, then a long-sleeve dress is perfect for you. It's a no-fuss option for an evening March wedding because it doesn't require a second piece to your outfit. Fitted long sleeves on a 40s style dress look classy and elegant. For warmer climates, loose billowing sleeves in sheer fabrics can create a feminine, ethereal look. Moreover, if cold weather is not a concern, you can lose the sleeves altogether and opt for sleeveless or spaghetti-strap style dresses in breezy fabrics, like silk, linen or chiffon. Choose a fabric in pretty spring colors like pink, lavender, daffodil yellow or an enchanting floral print.