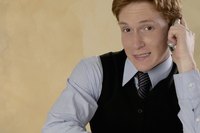 Most men have had at least one brush with vests. The problem is not that you don't like your vest; it is that you don't quite understand how or when to wear to wear it appropriately. Whether your vest is tweed, herringbone, cotton or wool, dressing by occasion is the best way to choose an ensemble for your traditional button-down black vest.
Business Formal
Wearing a black vest with your business formal attire is perhaps one the smartest ways to maximize your wardrobe options. Business formal attire includes dark business suits, conservative ties, dress shirts and dress shoes that are usually worn in office environments, professional social events and on dressy social occasions, like a symphony. By adding a vest to your black suit you create dimension in your ensemble and are better able to remove your suit jacket without appearing too casual.
Business Casual
Wear your black vest with business casual attire for a slim, professional look. Business casual is appropriate for occasions and environments in which you are expected to appear somewhat relaxed, but discernibly professional. Business casual attire includes dress shirts, casual button-down shirts, slacks, khakis, chinos, optional tie, dress shoes or loafers and a seasonal blazer. Pair your black vest with a plaid or gingham dress shirt, black or charcoal gray slacks and black dress shoes for a smart, modern look.
Dressy Casual
Although dressy casual and business casual include nearly identical items, they don't have to look the same. Dressy casual attire also includes dark wash jeans, polo shirts and open collar shirts. The key is to look relaxed but elegant. Wear dressy casual attire for informal occasions and venues such as dates, parties, nightclubs and socials. Pair your black vest with dark wash, straight-leg jeans, colorful button-down casual shirts with rolled sleeves and black loafers for a trim, stylish look.
Casual
Your casual wardrobe affords you the opportunity to really get creative with your black vest. Appropriate casual attire usually includes lightweight button-down shirts, polo shirts, graphic-free T-shirts, jeans, loafers, sneakers and slip-on shoes. You want to look casual and comfortable, but also neat and stylish. Pair your vest with a fitted striped polo or a V-neck tee, black jeans and sneakers for a fun, youthful look. Go bold with an eye-catching plaid shirt, similarly hued driving shoes and slim fit jeans.