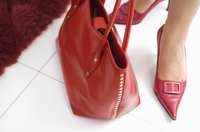 Wearing ill-fitting shoes presents a host of foot problems that can be avoided with properly sized shoes. Get your foot measured, as feet commonly increase in size as we age, and shop for shoes at the end of the day when they're 5 to 8 percent larger. Make sure there is a 1/2 inch of room between your longest toe and the end of your shoe. And the most important test of all: are they comfortable?
Blisters and Corns
When feet or toes rub against parts of a shoe, the body reacts by creating a fluid-filled sac called a blister. The skin underneath a blister is usually tender, making it difficult to walk comfortably. Corns are also caused by friction of the shoe rubbing against your feet. A corn is a small, thickened area of skin usually on the tops or sides of your toes, but sometimes can form between toes, as well. Corns can be quite painful.
Bunions
A bunion is caused by an abnormal outward projection of the joint at the base of the big toe causing it to turn inward. Although bunions can be genetic, they can be accelerated by wearing narrow, tight shoes that push your big toe over further than its comfortable range of motion. Once the bunion is formed, tight shoes exacerbate the problem.
Hammer Toes
Hammer toe is a condition where one of the smaller toes develops a claw-like appearance. It's either caused by misalignment of the toe joint, or muscle or nerve problems which cause the toe to curl up instead of laying flat. The most common cause of hammer toes is wearing shoes that are too small.
Plantar Fasciitis and Other Heel Pain
The plantar fascia is a ligament that runs between the heel and the ball of your foot. When this ligament becomes inflamed, it's called plantar fasciitis. This condition can also lead to heel spurs, calcification at the point where the fascia attaches to the heel. Both of these conditions can be caused by ill-fitting shoes.
Ingrown Toenails
Ingrown toenails happen when the edge of the nail grows down and into the surrounding skin, often causing pain, swelling and redness. It usually affects the big toe. While the most common cause of ingrown toenails is not trimming the nail properly, ill-fitting shoes are a common culprit, as well.
Athlete's Foot
Athlete's foot isn't just for jocks, anyone can be affected. Tight-fitting shoes are a perfect environment for Trichophyton mentagrophytes, the microscopic fungi that causes the intense itching, burning, scaling and pain associated with athlete's foot.