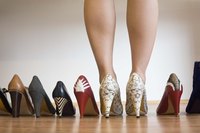 A cocktail dress and high heels are practically a uniform on the club scene. But the wrong shoes can turn a fun night on the town into a torture session. Remember a few key factors when shopping for high heels and you're guaranteed to stay cute and comfy all night long.
Style
High heels come in many forms: sling backs, peep toes and strappy sandals are just a few. The design that will offer the most comfort and safety for partying feet are closed-toe wedges, platforms or pumps -- minus the toe cleavage that can dig into toes and cause bunions. When it comes to material, patent leather, plastic and fabric shoes are in style, but Jaleh Hoorfar, doctor of podiatric medicine, told "O Magazine" that it's best to stick with leather and suede heels since these materials are both breathable and comfortable.
Comfort
When shopping for heels, Hoorfar recommends going late in the day when your feet are a bit swollen so that you buy shoes that will still fit after hours on the dance floor. Don't go higher than three inches, and buy something with a chunky heel as opposed to a stiletto, which offers less support, especially when you're running from club to club. Wedges and platforms give you height while reducing the angle of elevation, helping prevent arch collapse.
Safety
Clubs can be dangerous places, especially later in the evening when many patrons have had a few too many drinks. When you're walking around in a dark, crowded club, the chances are pretty high that someone will step on your toe or a glass will get dropped and broken near your feet. If the person who accidentally steps on your toe happens to be wearing stilettos, the consequences could be extremely painful for you. Although strappy sandals are cute, for these reasons it's best to stick with covered-toe pumps that offer more protection.
Other Tips
Be sure to break your shoes in at home before wearing them out for the big night. You can even try dancing in your living room to see how you feel. Also, before you hit the town, slip a pair of flats into your purse. Check them with your coat so that you have them to slip on at the end of the evening if your feet get sore. If you're wearing shoes with adjustable straps, laces or ties, adjust them for comfort.