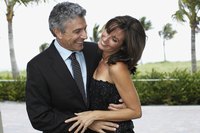 Whether you're planning to wear a strapless wedding gown or hitting the park in a strapless sundress for a picnic, you may be tempted to forgo a bra for comfort reasons or because of the seamless look you get without one. Take a few important factors into consideration when making the choice.
Body Type
If you have smallish, perky breasts, you can often get away with not wearing a bra with a strapless dress, assuming the dress is tight enough to hold your chest in and your boobs are not bouncing around. If you have a full C or D cup or above, Women's Health magazine says it's best to wear a strapless bra.
Occasion and Comfort Level
Some occasions are just not appropriate to go sans bra. For instance, if you're in an office setting, at a bridal shower or meeting your boyfriend's parents for the first time, wear a bra -- though you likely wouldn't be wearing a strapless dress for any of these occasions. In the end it all comes down to your comfort level – some people might be horrified by going without a bra in any situation. If that's you, then stick to your guns.
Fabric and Style of Dress
If your strapless dress is made of cotton, silk or other lightweight fabrics, wear a bra. It's very easy to see nipples and other details through these materials, even on women with small, perky breasts. On the other hand, if your dress is made of microfibers or bamboo and you have a smallish chest, feel free to go without. Another situation where it should be okay to go without a bra if you're small chested is if the dress has a built-in bra or an empire waist, since these styles offer support by design.
Strapless Bra Options
If you have a strapless dress that you don't feel comfortable going braless in, but you don't want to wear a constricting strapless bra, a few other options exist. If you don't need support, but want to hide your nipples, you can simply wear pasties underneath. These adhere to the skin and cover the nipple area to avoid any embarrassing situations if you find yourself in an air-conditioned room. Another option is duct tape or even small adhesive bandages. For those who need a little more support, there are stretch "tube bras" which wrap around the chest area to keep your breasts held in. These are much more comfortable than the typical structured – and often very tight -- strapless bras. Get one in nude and one in black, and you're prepared for a variety of fashion emergencies.