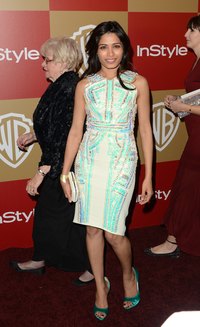 A sheath dress, named after the close-fitting sheath of a sword, is a classic, versatile item for any woman to have in her closet. Slim-fitting, but structured enough to minimize imperfections, a carefully selected sheath can accentuate the waist and curves of women of all shapes and sizes. Contemporary designers offer sheath dresses in a wide variety of colors and patterns, sleeve lengths, necklines, hemlines and fits. They can be worn all year round, and make for a perfect day-to-night outfit with some simple accessory changes.
Work
For a powerful work look, pair a classic boat-neck sheath dress with a cropped, fitted blazer, high-heeled pumps and a simple pearl or bead necklace. In a more casual office environment, throw a cardigan over your shoulders instead and accessorize with your favorite gold or silver jewelry.
Cocktail/Evening
A sheath dress with a bit of lace or beading detail can go a long way at a dinner party or cocktail event. Dress it up further with strappy high-heeled sandals and an evening clutch. Add just one more bit of flash to complete the ensemble: a pair of chandelier earrings, a statement necklace or a fur bolero will maximize your look without overdoing it.
Weekend
A pastel or jewel-toned sheath dress is perfect for looking stylish at a weekend picnic or barbecue. Pair your dress with a patterned silk scarf, stud earrings and a simple tote. A pair of ballet flats or elegant flat sandals will complete the look.
Cold Weather
Pair a long-sleeved sheath dress with a pashmina, tights and a pair of high-heeled tall boots. A belt or vintage brooch are good ways to add a bit of color or sparkle in the dreary winter months.
Fuller Figure
Wearing a sheath dress is a great way to enhance a curvy form. Pair a knee-length sheath dress with elongating high-heeled shoes and a long necklace. Look for double-knit fabric for more structure and less cling, and cap sleeves for a flattering silhouette. To minimize the stomach, choose a dress with ruching or gathering.
Pear-Shaped Figure
To complement a pear-shaped figure, "The Wall Street Journal" fashion reporter Teri Agins suggests a contemporary sheath dress with an A-line skirt and a side seam rather than a back-seam zip to improve your silhouette. Look for a style with beading, ruffles or another design element on top if you want to detract attention from your bottom half.
Petite
If you are petite, look for a sheath dress with a tapered skirt and fitted bodice that will give the illusion of a curvier look and hide narrow hips.