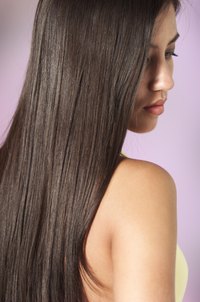 Brazilian perms and Japanese perms are two types of hair straightening treatments that render problem hair silky-smooth. Taking a break from daily hair-wrestling can be a nice change, and will save a lot of time each morning. While there are some precautions, a perm can provide a fresh new look.
Brazilian Perm
A Brazilian perm is also referred to by its brand names "Brazilian Keratin Treatment" or "Brazilian Blowout." It is a method of temporarily straightening the hair by sealing a liquid keratin and a preservative solution into the hair with a flat iron. Keratin is a protein found in our hair and nails. Curly hair has less keratin than straight hair, so applying this treatment tricks the hair into straightening out. Brazilian perms work best on coarse, curly hair.
Japanese Perm
A Japanese perm is also known as "thermal reconditioning." This method is among the newer techniques in hair restructuring. The procedure consists of first applying a hair relaxer, which is an alkaline solution that permanently dissolves the protein bonds in the hair. A neutralizer is then applied, and with the use of a flat iron, locks the hair into place. This results is each strand becoming pin-straight. Japanese perms work best on finer hair with loose waves.
Results
Brazilian perms do not break the protein bonds in the hair, resulting in the treatment wearing off in two to four months. The price ranges anywhere from $300 to $600. The Japanese perm breaks the hair's bonds, making the treatment permanent. It will last until your hair grows out, which can be anywhere from nine to 12 months. At the same time, this method does tend to be more expensive, ringing in somewhere between $500 to $1500. The price range in both types of perms depends on the length and thickness of your hair.
Health Concerns
Most Brazilian perms use formaldehyde that can cause eye, nose and throat irritation. The treatment has also been banned in Canada and the European Union due to the high concentration of chemicals. The brand "Brazilian Blowout" has released a non-formaldehyde procedure that uses glycolic acid as the active ingredient. There is no information yet on whether this treatment is safer than formaldehyde, so use at your own risk. Japanese perms use the relaxer ammonium thioglycolate, which can cause allergic reactions. While it is deemed to be safer than Brazilian perms, the same warnings apply: Avoid skin contact and do not use it frequently.
And the Winner Is...
Both treatments have their risks, but the Japanese perm has fewer risks than the Brazilian perm. While it may be pricier, the Japanese perm also lasts two to three times longer. Both treatments are available in home kits as well as salons, but we recommend visiting a reputable hair salon. For best results, a hair professional will accurately assess the amount of product to be used and the length of time it should sit on your hair.