When you're running or strenuously lifting weights, your muscles are being put to the test. Resistance exercises and intense cardio movements break down muscle fiber -- and as your body works to repair these small tears, your muscles get bigger and stronger. The key to quicker muscle recovery and repair is protein. Protein works with your body by providing the amino acids and enzymes needed to build and strengthen muscle. Consuming protein before and after working out has been proven to reduce injury and muscle fatigue as well as help build muscle.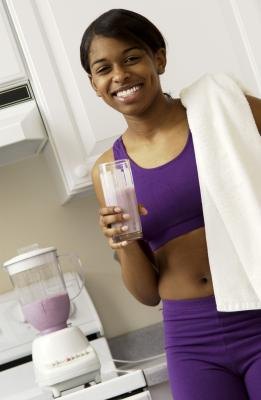 (Liquidlibrary/liquidlibrary/Getty Images)
A 2010 report by the Journal of Sports Science and Medicine shows that protein has a remarkable effect on the building and repair of muscles. Protein contains branched-chain amino acids that can counteract muscle damage and speed up the building of new muscle fiber. Subjects that consumed protein following a workout had a much smaller concentration of creatine kinase in their system. Creatine kinase is a known marker of muscle damage. Researchers also noted that protein has a positive influence on the body's release of human growth hormone, which plays a pivotal role in the building of new muscle.
According to a 2011 report by the American Journal of Clinical Nutrition, test subjects who consumed approximately 25 grams of liquid whey protein after their workouts saw a 33% increase of muscle protein synthesis (growth) than those who did not consume protein post-exercise. The report was based on two independent studies by McMaster University and the US Army Research Institute of Environmental Medicine. The researchers concluded that the most beneficial time to consume protein was two hours prior to exercise and within 30 minutes after a workout.
According to the International Society of Sports Nutrition (ISSN), the average adult needs about 0.8 grams of protein per pound of body weight each day to maintain optimal health. On days that you exercise strenuously or lift weights, you should increase that amount to 1.2 to 1.6 grams of protein per pound of body weight.
When you consume too little protein, you run the risk of experiencing increased muscle fatigue and failure. It can also be dangerous to consume excessive amounts of high-fat or animal protein, which can lead to heart disease, high blood pressure, high cholesterol and kidney issues, the ISSN warns.
Though all forms of protein are beneficial to muscle strength and recovery, sports nutrition experts seem to agree that liquid whey or soy protein delivers the quickest and most effective dose of protein to sore muscles. Whey protein is a by-product of cheese production and is commonly sold in liquid shake form or powders that can be mixed with water. Though it is created from the cheese-making process, whey does not have a cheese taste. In fact, it's most commonly sold in chocolate or vanilla flavors.
For vegans or those with a dairy aversion, soy protein is another excellent option. Created from soybeans, soy protein is also sold in liquid and powder form. Since protein supplements have become so mainstream, virtually any grocery store or health food retailer will carry a variety of protein powders and shakes to fuel your next workout and feed your muscles in the recovery period.
Promoted By Zergnet