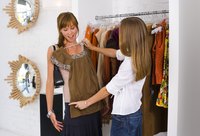 With a new trend nearly every week, it can be difficult to identify with and stick to any particular style. Instead of closely following trend after trend, look to who you are as a person to understand what you want to reflect. Learn what your current style says and how you would like it to develop.
Your Body
Understand your basic body shape, whether you are an apple, pear or hourglass. In acknowledging both your body's strengths and weaknesses, focus on the positives so that your clothing choices highlight these. For example, accept that you have broad shoulders or a small chest, but love your slim waist or toned legs. Select styles that show off your assets, drawing attention away from areas you would rather not show off.
Your Colors
Experiment with colors and shades to find which complement your skin, hair and eye color. You will naturally gravitate towards certain colors and avoid others, based on preference, though keep an open mind when trying on clothes. Begin with neutral colors, like grey and brown, then progress to pastels, warm colors and jewel tones. If a pale blue does not work, don't swear off the entire color. Try other shades, like cerulean or midnight blue.
Your Current Clothing
Be honest and somewhat critical of your current wardrobe to weed out clothing that does not suit you. Throw away or donate baggy, inappropriate and old clothing while remaining true to what works best for your lifestyle. Document your preferences with a notepad or pictures, including the outfits you enjoy wearing, styles that inspire you and clothing that just does not work. Include your personal style icon, whether it's Audrey Hepburn, Janis Joplin or Lady Gaga.
Your Shopping Trips
Try on as many clothes as you desire, but in the end, buy clothing that fits, flatters and makes you feel good about yourself. Don't become emotionally attached to any popular trend that does nothing for your body or style. In a pinch, invest in staples suited for anyone, such as a white button-down shirt, black dress, simple jeans and ballet flats. Include unique pieces, such as a signature belt or personalized necklace.