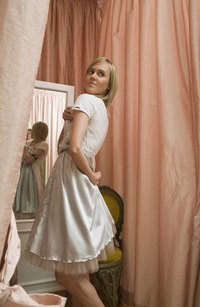 Whether you're shopping for a day dress or a formal gown, getting the right fit is key to finding a flattering garment that's sure to become a favorite. If your measurements match the fitting chart, you're in luck. Most women's bodies don't match the standard size charts used by designers, leaving you to figure out how to pick the right size. Pick the size that fits your body best, depending upon the style of the dress and your build.
Apple-Shaped Figures
If you have an apple-shaped figure, the largest part of your body is your midsection or belly. If you're shopping for empire-waisted or shift-style dresses, you should buy the size that best fits your shoulders and bust. These dresses fit relatively loosely over the midsection and can typically accommodate a larger abdomen without difficulty. When you're shopping for a more fitted dress, choose a size that fits your belly, even if you have to opt for a larger size. You may find that wearing a control panty or other shapewear provides a better all-over fit for more fitted styles and garments. Visit a tailor to have the shoulders and bust taken in if they're quite large, or opt for an empire-waisted or looser style for an off-the-rack fit.
Pear Shapes
If you carry weight primarily in your hips and thighs, your upper half may be relatively slender. For the best fit without alterations, look for dresses that are cut to accommodate your more generous bottom. Full or a-line skirts offer additional room for your curves, while fitting through the bust. Shift-style or wiggle dresses should be chosen to fit your hips, but may require alterations to fit your bust. When shopping online, you'll frequently see size charts that note that hips are "free." These dresses guarantee ample space and an improved chance of a good fit.
Busty Frames
While full skirts and loose-fitting shifts may accommodate curvier bellies and hips, large busted women must choose dresses that fit the bust. Even relatively loose-fitting styles are often somewhat fitted along the bustline. Choose a size that fits in the bust, and have the waist and shoulders tailored as necessary, or consider shopping at retailers that offer dresses by cup size for a perfect fit off the rack. Wrap dresses provide an alternative to custom-fit garments, enabling you to create a nipped-in waistline and avoid stretching, gaping and smashing your bust.
Rectangular Silhouettes
If you have an athletic or rather straight build, choosing the right dress size can be a challenge. Consider both your shoulders and waist when choosing which size dress to try. Looser-fitting styles simply need to fit at the shoulders. Depending upon the style, you may need alterations in the bust for an improved fit, but many loose-fitting dresses are quite forgiving of a less generous bust. If you're shopping for a more fitted dress, select a size that fits your waistline or look for styles with an empire-waist to glide over your waistline.