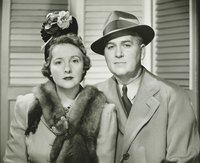 You're bald, and you like it. For some men, a hairless scalp is a matter personal style, but for others, it's less of a choice. Either way, baldness in men says a lot about a man's style and personality. On some, it says "distinguished," on others, it says "athletic," but for the man who has little or no hair on his head, it often says "chilly" or "sunburned." Exposure to the elements is one of the drawbacks of being bald; luckily, there are a variety of hat styles available, like the fedora, which can provide, both, scalp protection and a stylish accent to your wardrobe.
Wool Felt
Wool is often the go-to suit material for men who work in an environment that requires business-professional attire. Similarly, the wool fedora provides a level of sophistication to your headgear and can pair exceptionally well with your favorite suit. The fedora is versatile hat, so if you want to dress it down, simply pair with denim jeans and pull it to the back of your head for a laid-back casual style.
Fur Felt
Although fur and wool are similar in their ability to pair well with business-professional attire, they often stand on opposite ends of price range. Fur felt fedora hats are made from a variety of furs, such as beaver and even mink. Wearing a fur felt fedora will help add a bit of panache to your look. But as a pricier accessory, it requires extra care to ensure that it will last for years. GQ recommends that men wear their fedoras cocked to the side to avoid looking like federal agents.
Straw Fedora and Panama
As a general rule, straw hats are a casual accessory and are not appropriate for business-professional or business-casual. However, they can be paired well with suits and suit separates. The straw fedora typically has a shorter brim than the Panama hat, and the Panama has a flat crown, while the fedora is creased lengthwise. Both hats, however, are exceptional lightweight alternatives to a sunburned scalp.
Fabric
Fabric fedoras offer a wide variety of materials, textures and patterns. While straw hats are well and good, they remain just plain straw, and while wool and fur hats have a strong professional and polished appeal, they can all get a little boring after a few wears. Fabric fedoras utilize materials like corduroy, tweed and polyester, and they often include patterns like stripes or prints. While every fabric fedora is not appropriate for the office, they can add a strong sense of personal style to your overall look.