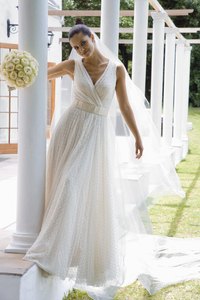 There's usually only one day in a woman's life that calls for a long, white, silk, satin or lace, over-the-top gown. If you like your dress -- or even if you don't --there's more you can do with it after your wedding day than hang it in the back of your closet.
Dye It
If you can't envision wearing your long white or ivory wedding gown to any affair except your wedding, dyeing it might change your mind. It's hard to find occasions that command a wedding dress, aside from Halloween. But a long dress in another color can be worn to black-tie affairs and galas. Dye your wedding dress black, navy, brown or even a lighter color, such as yellow. Choose a color that suits the event you want to attend, and find a professional to ensure that the dyeing will be even and that the fabric won't be ruined in the process.
Hem It
Your wedding gown is probably made up of more material than you know what to do with. Turn it into a mini dress. Lop off the train -- if it has one -- or take it up even further -- to the knee -- to change the entire look, style and feel of the gown. Alter other aspects of the dress, such as the neckline or sleeves, to come up with an entirely new frock. Because most wedding gowns are made from complex patterns, consult a tailor or seamstress to make major changes.
Donate It
Seek out organizations that give donated wedding dresses to less-fortunate women. Regardless of the style or age of your dress, these organizations will happily accept contributions and re-purpose them for weddings, proms, quinceañeras and other occasions. After you've worn the dress on your most special day, sharing it with someone who might not have the chance to wear a wedding gown is a nice way to keep the tradition moving forward.
Sell It
If you're not the sentimental type, sell your dress at a consignment store that specializes in wedding gowns. Many second-hand and consignment stores purchase designer wedding gowns and market them to cost-conscious brides. You can expect to get from 30 to 70 percent of the resale price of your dress, once it has sold.