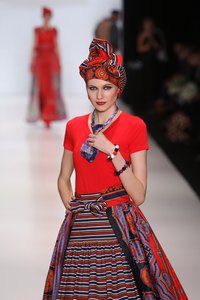 Gypsy-inspired fashions have rolled in and out of style ever since they were adopted by jet-setting bohemians of the 1910's and 1920's. And today, it looks like they are here to stay. The current iteration of the gypsy boho look is eclectic, mixing multiple prints, colors and textures to create ensembles that appear handmade and individualistic. A dedicated boho girl is rarely without a hat. From wide-brimmed floppies to the more traditional head wrap, there are hats to appeal to every gypsy girl.
Floppy Topper
Floppy hats have been a perennial favorite of gypsy girls since the 1960's. The crown is deep and rounded on top, without any creases. It is attached to a brim that is very wide, at least five inches. The brim is firm but not stiff, which allows it to softly fall around the face. Floppy hats are not only fashionable, but functional, as well. The wide brim will shield your face from the sun, shading you from those harmful ultraviolet rays.

It's a Wrap
A more traditional take on a gypsy-inspired headgear is the wrap. This style is created from a large printed scarf wrapped around the head and then tied at the back low the neck. You can also fasten the hat by tying the ends of the scarf on top. If you are not so handy doing it yourself, consider a turban. Turban fashion hats have a similar style to a tied scarf but are actually hats you just pop onto your head. No complicated tying involved.

Floral Crown
If you are into gypsy style but like things a little more feminine, then a floral crown might be the option for you. Floral crowns have grown in popularity over the past several years and are available in many different variations, including real flowers or fake, with small dainty petals or bigger, statement-making blooms. The fantastic thing about floral crowns is that if you are crafty, you can make one. There are many different tutorials on the internet that'll teach you how to do it yourself.

Knit Wit
Knit caps are yet another option for girls who favor gypsy fashion, and there are several different variations that play nicely with the boho aesthetic. One of them is the snood. First worn during the Medieval period, a snood is a loosely hand-crafted net or crochet covering that sits on the way back of your head. Skull caps are also knitted and stretch tightly around your the top of your head. Both of these styles work very well for ladies who wear their hair long and wavy.