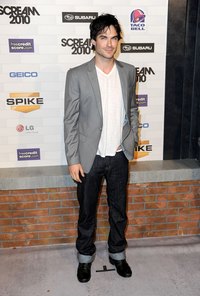 Rolled-up jeans are evolving from a trend into a mainstream men's fashion. Depending on the venue, season and the rest of the outfit, jeans, preferably in a dark wash, can be worn with a variety of shoes. The look displays a certain fashion sensibility while remaining reasonably traditional.
Leather Lace-ups
A pair of tan wingtips with a slim-fitting shirt and rolled jeans is a stylish look. Shoes usually reserved for the office, especially sans socks, gives the overall appearance a dash of European flair. The look, paired with dark, quality denim, can be used in certain semi-formal and business casual environments, provided shoes are polished and shirts are of the button-up variety. Note that this look does not extend to purely formal black dress shoes or those in patent leather.
Boots
Pairing cuffed jeans with a pair of suede or leather boots nails the vintage look without coming off as affected. The style is classic Americana, ideal for rummaging through a bookstore or the local farmer's market. The ideal boot for this look is slightly distressed, oil-rubbed or military-inspired. Polished dress boots are not appropriate for this rugged pairing.
Boat Shoes
Boat shoes-- or docksiders-- work great with cuffed jeans. The look evokes memories of leisurely days in the sun, walking on the beach or sitting back with a fishing rod. The look is more authentic without socks, ideal for hot days and urbane enough for treks through town. White and grey are classic color choices for these canvas shoes, but it's always good, in the warmer months, to punch it up with shades of blue, red and green.
Loafers
The loafers-sans-socks look is a staple of European men's fashion. With cuffed jeans, the look is, at once, polished and trendy. For added flair, choose a set with tassels or stick a penny in the slot. The look works for driving shoes and moccasins in purely casual scenarios, as long as the shoes are well-kept and clean. The casual nature of loafers means that jeans can be trim or looser, and the rolls may be of varying thicknesses to suit the overall theme.