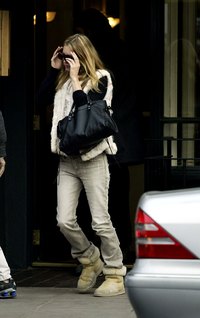 UGG boots might be the comfiest shoes you have in your closet, but that doesn't mean they're appropriate for all occasions. Although these fleece-interior Australian sheepskin boots are luxe, UGGs are best used in those cold weather months or for quick errands. When attempting a dressier look, leave the UGGs at home.
Dressing Up
Wearing UGG boots in public is not quite the equivalent of wearing sweats or slippers in public, but it's close. Match your footwear to the rest of your outfit; UGGs are not appropriate with a dressier outfit and will ruin any attempt. Instead, try heels or dress shoes when aiming for a dressier look. Closed toe flats or embellished sandals can also be good alternatives for a dressier style.
When UGGs are Appropriate
Instead of trying to make your UGGs work with a dressier outfit, find the right time and place to wear them. UGGs are best paired with jeans, which can be tucked into the boots; leggings, which can easily fit inside the UGGs, or a bohemian chic look, like a flowy dress. Pairing your UGGs with clothing basics in a casual setting is the best way to pull off these shoes.
UGG Boot "Do's"
DO wear them at home: UGGs keep your feet warm and cozy while trying to save on the electric bill.
DO wear them to pick up takeout: No need to dress up for dinner if it's going back home with you.
DO wear them when your friends come over to watch a movie: Assuming they are close enough friends, this situation still falls under Rule 1.
DO wear them to the grocery store: As long as it's the neighborhood market, UGGs are appropriate.
UGG Boot "Don'ts"
DON'T wear them to a nightclub: As per the dress code, you will probably not be allowed in.
DON'T wear them out to dinner: Upscale restaurants might also have a dress code. If not, wearing UGGs still may be considered disrespectful.
DON'T wear them to work: Unless your boss approves, UGG boots are never appropriate in a professional environment.
DON'T wear them to exercise: For your safety, do not wear UGGs to workout.