Boxers aren't the only athletes that can benefit from bag training. Traditional martial artists such as karate practitioners can improve their techniques and get a serious workout by incorporating bag workouts into their routines. When you're ready to throw punches and kicks with speed and power, speed bags and heavy bags represent the next best thing behind live sparring. You can perform virtually any kick on a heavy bag as well as any strike with a closed fist, so your workout is only as limited as your imagination.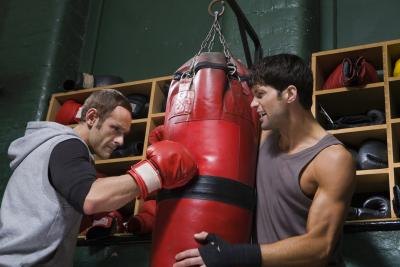 (Jupiterimages/Polka Dot/Getty Images)
Training with a punching bag allows you to burn between 350 and 600 calories per hour, depending on your weight and the pace you keep up. Working out your punches and kicks on the bag will improve your aerobic fitness, power, coordination and technique. According to Mike Bresnahan at RossBoxing.com, heavy bag training is the ultimate de-stressor when it comes to boxing exercise.
Karate features many of the same strikes found in boxing such as the jab, cross, hook and uppercut. Other closed-fist strikes unique to karate and other traditional martial arts include thrust punches, backfists and ridgehands. All of these punches as well as roundhouse kicks, side kicks and front kicks can be effectively delivered to a heavy bag, but you may find it difficult to deliver kicks to a smaller speed bag.
To make progress with your technique, you need to have a workout plan in mind before you start striking the bag. Speed drills involve throwing as many punches, kicks or both as you can for a short round. If you want to focus on your technique, slow down the tempo and string together some punching and kicking combos. You can also incorporate the punching bag into a circuit training regimen with other exercises such as pushups, pullups, jump rope and agility drills.
Punch bag training carries risks, especially if you don't prepare properly. A breakdown in technique when fatigue sets in can cause you to throw sloppy punches and kicks, which could result in joint injuries such as hyperextensions and subluxations. Use proper protective equipment such as hand wraps and padded bag gloves to minimize your risk of injury.
Promoted By Zergnet