Exercising after a long, stressful day can help boost your energy and even improve your mood. Particularly if you're experiencing chronic fatigue and low energy levels, exercise could be the key to feeling better. Exercising when fatigued, though, also carries some risks, and it's generally unwise to exercise when you're very sleepy or injured, particularly if you're doing intense cardio or lifting heavy weights.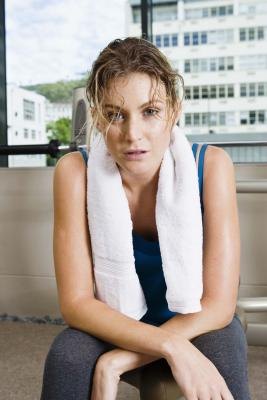 (Jupiterimages/Goodshoot/Getty Images)
If you're feeling emotionally fatigued after a long day of work or a bout with depression, exercise might be the best thing for you. A number of studies have found that exercise helps to combat depression, and a 2000 study published in "The Journals of Gerontology" found that depression can be even more effective than antidepressants in older patients. The endorphins released during exercise also have temporary mood-boosting benefits that can give you a quick shot of energy and happiness.
Fatigue can be a clue to your overall health. If you feel weak and exhausted most of the time -- despite sleeping well and minimizing your stress -- a number of health problems could be contributing factors. Cardiovascular problems can cause chronic fatigue, and regular aerobic exercise can prevent heart problems and improve existing issues. However, if you have chronic problems with fatigue, consult your doctor before exercising. You might need medication, lifestyle changes or tests to determine the cause of the fatigue.
If you've been exercising regularly and vigorously, your fatigue could be caused by overtraining syndrome. This type of muscle fatigue occurs when your body is pushed to its limits, and can lead to feelings of weakness and fatigue. Overtraining can also cause irritability and muscle pain. Consider taking a break from exercise before you return to your routine. Delayed-onset muscle soreness is a moderate muscle pain that occurs 12 to 72 hours after exercise. It's associated with new fitness routines, and typically gets better as your body gets accustomed to a new workout. However, you should avoid working out until you no longer have muscle pain or fatigue.
Exercising when you're fatigued carries some additional risks. People who exercise while exausted, for example, are more likely to suffer stress fractures, sprains and strains. If you lift weights, you could drop the weights or adopt incorrect body postures that increase your risk of injury. Cardiovascular exercise such as running can be more challenging when you're fatigued, and you might not be able to exercise as vigorously or as long. If you're feeling weak, dial back your exercise routine or consider foregoing it until the next day.
Promoted By Zergnet