Real punching power demands a seamless blend of muscular strength, speed and technique. The more powerful and responsive your muscles are and the more time you spend developing your boxing skills, the quicker you can fire off blistering combinations. Without speed, you're not going to make contact with a moving target such as a speed bag or sparring partner. There is no single exercise that works best to help you punch faster; you need a well-rounded approach to training, dedication and discipline before the speed comes.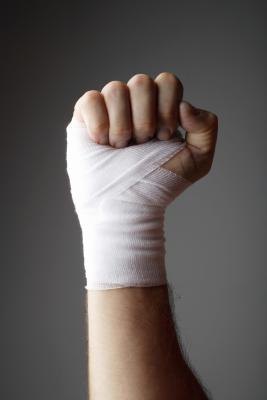 (Jupiterimages/Goodshoot/Getty Images)
If you think your shoulders, arms and chest are all you need to develop for punching speed and power, you're sorely mistaken. Your hips, core muscles, upper back and legs are all instrumental in allowing you to deliver the appropriate snap and torque for your punches. Effective exercises for building functional power include weighted squats, pull-ups, lunges and kettlebell workouts.
Developing muscle strength will help you get more out of each punch, but speed takes practice. If you want to punch fast, you need to practice punching fast. Strap on a pair of gloves and do rounds on the speed bag, hit mitts with a trainer and do burnout punches on the heavy bag. Don't put everything you have into every punch. Focus on retracting your punches as quickly as you can after you make contact with the target. One of the best supplemental exercises for boxing speed is jumping rope. This exercise can increase coordination, agility and footwork.
The most important aspect of punching speed and power is technique. Mechanics can only be perfected through repetition and high-level instruction. Hitting the mitts with a qualified instructor will help your shore up the correct ways to throw and retract punches, as well as the type of punch to throw. This will maximize your efficiency when it comes time to deliver your strikes. A 2011 study conducted by the Research Institute for Sport and Exercise Sciences found significant differences in speed depending on the type of punch thrown.
Even if you're not going to put on the headgear and dodge punches in the ring, boxing training can be dangerous, particularly when it comes to your joints. A major study on injuries suffered by West Point cadets conducted by Dr. Brett D. Owens found that boxing caused the greatest number of shoulder injuries. Missed punches were to blame for a large portion of shoulder subluxations. Make sure you warm up properly before training, rest tired muscles and don't push yourself to punch fast and hard past the point of exhaustion. When you're tired, technique breaks down and injuries are more likely to occur.
Promoted By Zergnet