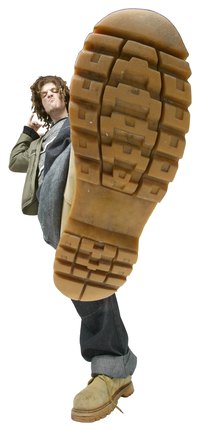 People wear shoes in all conditions, rain or shine. However, not all shoe sole materials are ideal for all environments. There are a few materials, some natural and others man-made, that are versatile enough for wet and dry surfaces. Although most shoe soles are acceptable for most normal weather conditions, choosing the right sole material increases slip resistance while extending the life of the shoe.
Rubber
Rubber is a renewable resource. It's also durable and inherently slip-resistant. The material offers a high degree of traction on dry surfaces, with soles often molded to feature high-grip treads. Rubber is also waterproof, making it ideal for use on wet surfaces. Rubber will not degrade from simple exposure to moisture, unlike leather, and it maintains a large degree of its grip when used in these environments.
Cork
Although derived from trees, cork is an impermeable natural resource, widely utilized in footwear of all types. Cork's natural resistance to moisture also reduces foot odor from bacteria buildup. Cork is a springy and relatively durable material, offering a large amount of impact resistance and molding to the wearer's foot shape. Many cork-soled shoes have a rubber or silicone sole adhered to the bottom for increased durability and traction.
Silicone
A made-made composite, silicone's natural moisture resistance makes it a widespread choice for various caulks and sealants. Used in shoes, silicone's pliability, thermal stability and tendency to adhere in varying degrees to other materials makes it a common choice in athletic shoes, waders, sandals and other footwear types. The material is resistant to breakdown caused by ultraviolet radiation and oxygen, allowing it to maintain reliability and traction on a wide variety of surfaces over time.
Leather
Leather-soled shoes chosen wisely are perfectly acceptable in wet and dry environments. Although leather's traction is not as good as rubber or silicone, its widespread use in shoe soles is an indicator of its near-universal effectiveness and usefulness. Wet footpaths do not provide a hazard for well-constructed leather soles, while sidewalks and streets inherently provide a good amount of traction. Given its tendency to absorb, leather is not recommended when trudging through snow or deep puddles. Good-quality shoe covers are readily available to counter these situations, and they let shoes naturally air dry in case they do get wet.