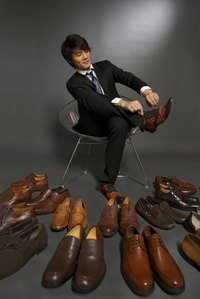 You finally have the job interview of your dreams. You've planned nearly everything in preparation: from your aftershave and tie to your suit and watch. Now, consider your shoe options. Namely, either square toe or round toe. Men's fashion and style experts have debated toe shape on dress shoes for some time, and fortunately, a few basic guidelines are available for you to consider when choosing the right dress shoe to go with your suit.
Why It Matters
Men's professional attire trends favor conservative style and avoid the frills and flamboyance of casual wear. Think about it: When you see a polished, professional guy, chances are that his impressive look is largely due to his attention to details such as a correctly sized dress shirt and carefully maintained dress shoes. GQ magazine notes that a man's shoes demonstrate if he pays attention to detail. The right kind of shoe tells the people you meet what kind of man you are -- whether you're a true professional go-getter or too lazy to care about personal presentation.
Round Toe
The round toe dress shoe has been around for ages, which is probably why so many men are drawn to a square toe. The fact remains however, that round toe shoes work better than a square toe with suits. When you wear a suit, your goal should be to streamline your look. Round toe dress shoe dimensions and structure are consistent with the angles and proportions of the human body; therefore, they are more flattering and better suited to a streamlined look. Esquire magazine notes that narrowly shaped and pointy toes visually suggest length and balance.
Square Toe
The square toe shoe has its points -- no pun intended. The fact that your feet are more square than round is a compelling argument. Square toes are often a lot more comfortable for men who have to wear dress shoes all day, every day. The fact remains however, that a square toe is counterproductive to creating a sleek, professional style because they are a casual design. Additionally, a square toe can create a shortened, stubby appearance in men.
Best of the Best
A wide variety of brands and styles of round toe dress shoes exist, but the best pair of basic dress shoes will pair with many different suits and last for years. Look for round toe dress shoes that are slender, but not uncomfortable, and constructed from high-quality black leather. Black leather is a classic look and offers enormous versatility. Other important characteristics include: a sleek design with few frills; a comfortable insole; and a flexible, but durable leather or rubber outer sole.