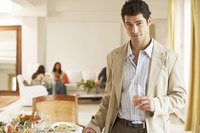 You've always been sort of a rebel. Rules? You break them. Style? You've had a trademarked style since third grade. A sense of propriety? Yeah, you missed that lesson too. You're an individual, and that's why you have no problem wearing a cream colored suit to the office when everyone else is stuck in their same old blues and blacks. However, a cream colored suit doesn't work with just any shoe. This is the kind of suit that requires a little more stylistic finesse than the average Joe business attire.
Shades of Brown
Brown is one of the most common color shoes worn with men's suits. Brown leather comes in a wide variety of shades, and you should take full advantage of that. A lighter shade of brown, like tan or russet, will ensure that your suit appears bright and has a light, summery appeal. Conversely, darker shades like true brown or chocolate, draw the eye downward and give the suit a more grounded, earthy aesthetic. Choose a brown shade that complements the hue of cream from which your suit is made.
Black
Although many men would avoid dark color shoes with a cream suit, dark colors can be perfectly appropriate, including black. In fact, this is a preferable option if you're wearing the suit in an office or professional setting. Both black and white are neutral colors. Cream, a close variation of white, is well suited to be matched with black. Select a black shoe that compensates for the hue variation in the suit with subtle texture and detailed stitching.
Burgundy
Burgundy, a combination of purple and brown, is an excellent color choice to pair with a cream suit. If you select a pair of burgundy leather shoes, take care to coordinate the shoes with another article in your outfit. Although this is usually done with the belt, you can add an extra punch to your overall look by matching the shoes to a print tie or a pocket square.
Primaries
Chances are that you didn't just buy your snazzy cream suit for the office. Take your suit from businessman to good-times guy by adding a little funk to your footwear. For a task like this, and to avoid looking too '80s retro, review a selection of suede leather shoes in primary colors: red, blue and yellow. Although the color you choose will depend on the kind of look that best reflects your personality, blues are usually your safest best. A deep midnight blue works extremely well for the perfect casual afternoon or evening look.