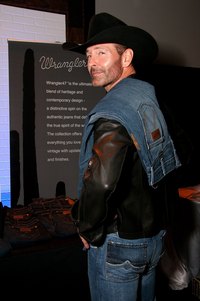 Jeans are one of those fashion staples that never go out of style and always seem to flatter practically any body type due to the sheer variety of options available. Whether you decide to dress them up or down, having more than a few pair in your closet is a fashion essential. One of the oldest and leading denim brands is Wrangler, and they have an impressive stable of styles to choose from for both women and men.
About Wrangler Women's Jeans
What started out as women's jeans that were geared toward the more casual and athletic female consumer has evolved throughout the years to feature more trendy and feminine designs. While still maintaining the style and design aesthetic Wrangler is known for, contemporary jeans also provide the same qualities as other denim brands within the market. Additionally, Wrangler women's jeans have an impressive number of styles available, which is always a plus in such a crowded market.
Women's Jean Styles
Wrangler has over a dozen styles of women's jeans, however a big portion of those jeans are a combination or integration of other styles. This makes it easier to determine which style, fit or design suits you best because all you have to do is focus on the core styles and decide from there. These styles include: The Ultimate Riding Jean, Rock 47 by Wrangler, Wrangler Premium Patch, Wrangler Cowboy Cut, As Real as Wrangler, and Aurora from the Women at Wrangler. Separately, these jean styles offer a relaxed fit, slim fit, low rise, boot cut, slimming technology and rear-enhancing characteristics.
About Wrangler Men's Jeans
When it comes to jeans for the rugged, athletic male, few brands are as synonymous as Wrangler. What began as authentic western wear favored by rodeo cowboys, farmers and country music stars has evolved into a men's jeans brand that reaches a broader consumer. Wrangler jeans for men are still one of the go-to brands for those seeking a western appeal and aesthetic, but current styles also target those wanting jeans that are appropriate for casual weekend wear or can be styled for a more dressy casual appeal.
Men's Jean Styles
Even more so than the women's jeans, Wrangler has an abundance of styles for men, which is not surprising considering that the brand started out specifically for men only. Since there are so many options for men's jeans, the best way to navigate between styles and make a decision is to decide what your style needs are. To make this easier, there are a stable of core brands to choose from just like the women's styles. These include: Wrangler Cowboy Cut, Wrangler Five Star Premium Denim, Wrangler Retro, Comfort Solutions Series, Wrangler 20X and Genuine Wrangler. These jeans offer a variety of cuts, fit and rise options, while also catering to extended sizes, such as big and tall.