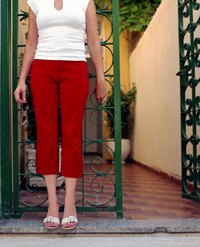 Cropped pants are a mini vacation from the long, skinny jeans and flared pants of winter. This pant option has boots and clunkier shoes giving way to sandals, dainty sneakers and flip flops that easily allow for a spring in your step. With many styles, brands and fabrics from which to choose, it's important to remember that shoes, when paired with crop pants, look best when the outfit's fabric and color is considered.
Sock Situation
The most flattering way to wear cropped pants is without socks. However, if socks are a necessity because your feet sweat or because you just feel more comfortable with extra padding, choose a pair that is low on the ankle -- anklets -- or footies that can be hidden in the shoe. Socks that go any higher than below the ankle sabotage the cropped-pant look. The best shoe-and-sock combos with cropped pants include Mary Jane-type shoes with rubber soles, thin-soled sneakers and more petite canvas tennis shoes.
Low or No Heels
Sandals make sense with cropped pants because of their open, airy vibe. Strappy sandals, espadrilles, ballet flats, slides and flip flops with embellishments work because they put distance between the bottom of the pant and the toe. A kitten heel is also acceptable, but make sure the color complements the cropped pant and your skin tone.
High Heels
Wedges work as a cropped-pant shoe option because the heal can elongate a woman's leg and make ankles and calves appear slimmer. The heal can be low or high, but make sure there are cutouts at the top of the shoe so it doesn't overpower the cropped pant. A dressier option is a high-heeled slingback or peep-toed pump in a solid color, such as a nude that matches your skin tone. The heel should be thin so as not to distract from the overall outfit, and the toe should be pointy to lengthen the leg.
Men's Style
Men have gotten into the cropped-pant look, opting for pants that can be hand-rolled, cuffed or pegged at the bottom. The key to a successful men's look is to pair slim pants with boat shoes or loafers -- sans socks. This makes the cropped pants retro, but with a thoroughly modern twist. For a casual or even beachy look, pair your cropped pants with a black or brown pair of flip flops.
What Not to Wear
Because cropped pants are a lighter pant option for warmer weather, your shoes should not be bulky. Solid shoe colors work best -- busy patterns can distract the flow and make the outfit look blockish and awkward. Choose shoes that are close to your skin tone or within the pant hue for a seamless flow. Ankle boots, clogs and athletic shoes cover the entire top of the foot and are not okay options for the light feel of a cropped pant.