Flexibility is an important component of fitness that is often neglected. Instead, most people focus on cardio and strength training, leaving the gym before they even do one stretch. Back injuries and pain are extremely common, and regular exercise along with stretching is the best remedy, according to Global Spine. Adding standing back stretches a couple times each week at the end of your workout can help you maintain mobility and lower your risk of injury.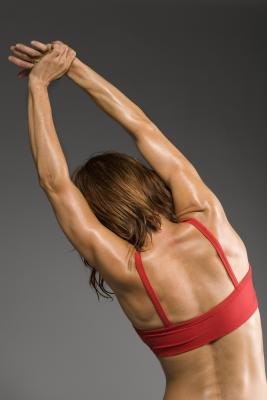 (Siri Stafford/Lifesize/Getty Images)
Just like strength training, stretching needs to be done two to three times per week to see any benefit, according to the American College of Sports Medicine. Perform these stretches at the end of a workout when your muscles are warm and more flexible. Hold each stretch for 15 to 30 seconds, and repeat up to three times. Stretch just until you feel a pulling sensation through your back muscles, not pain. Move gently into and out of each stretch, and avoid bouncing. Also, breathe deeply while you stretch. It will help your muscles relax.
The forward bend will not only stretch the muscles in your back, but also your hamstrings. The hamstrings attach to your pelvis and if they are tight, you may feel discomfort in your back. Stand with your feet together, toes pointed straight ahead. Keep your knees as straight as possible throughout the stretch. Exhale and slowly bend forward, reaching your hands towards your feet. Allow your body to hang for 15 to 30 seconds, then slowly roll back up to a standing position.
The side bend stretches the muscles along your spine and the sides of your torso. Stand with your feet hip- or shoulder-width apart for balance. Raise your right arm straight up overhead so that your elbow is next to your ear. Exhale and lean towards the left, bending but not twisting your waist. As you bend, slide the left hand down your left leg. Stop when you feel a slight pulling sensation through your back and side. Hold and gently stand back up before switching sides.
This stretch can be done with any immovable object that can hold your body weight. Grip the bar with your right hand. Exhale and lean your hips back as you bring your torso forward slightly. Relax your head and neck so that your head is near your upper arm, and in line with your torso. Your right arm is holding your body weight. Hold the stretch, allowing your body to relax into it. Slowly stand up and repeat with your left arm.
Promoted By Zergnet