One of the down sides to working out is the muscle soreness that often develops hours later. Even a a long day of simply walking can lead to soreness. Tight legs in particular are difficult to cope with since you need them to get around. Fortunately, a basic but solid stretching routine will help relieve the tightness and improve your leg flexibility.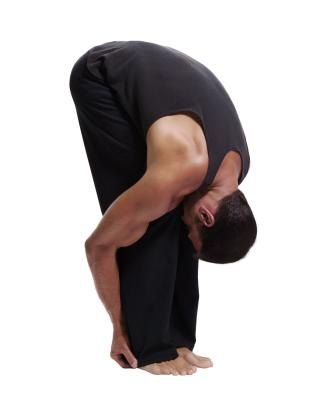 (Thinkstock Images/Comstock/Getty Images)
Stand up straight and hold on to a chair or wall for support. Pull your right leg behind you and grab it with your right hand. Gently pull the heel towards your glutes. Hold this stretch for 30 seconds and release. Repeat on the opposite leg. Do not jerk the leg or pull the leg out to the side to prevent knee injury.
Stand in front of a wall and place both hands on it in front of you. Lean against the wall with one foot in front of the other. Keep your back leg straight as you lean into the wall and bend your front leg. Push through your back heel to engage the calf muscles. Hold the stretch for 30 seconds and switch legs.
Stand on an exercise mat and lunge forward with one leg. Kneel on your back leg so that your shin is touching the ground. Make sure your front toes are in front of your knee and rest your hands on your knee. Push your hips forward and push against your front knee with your hands to feel the stretch. Hold for 30 seconds and switch legs.
Stand with feet apart and toes pointing slightly out. Lunge toward one side and rest your elbow on your thigh while keeping your other hand on your straight leg. Allow the toes of the straight leg to point upward as you push the heel into the ground. Hold the stretch for 30 seconds and switch legs.
Promoted By Zergnet