Athletes and bodybuilders spend countless hours in gyms and health food stores performing exercises and taking supplements to increase pectoral definition. However, if the connective fascia tissue surrounding these chest muscles is not stretched, the muscles have no room to enlarge despite workouts and nutrition. Doing proper stretches after a regimen of chest work gives blood-engorged muscles space to move into and grow. Fascia tissue needs time to adjust to stretches, so the standard hold time after a stretch is 20 to 30 seconds.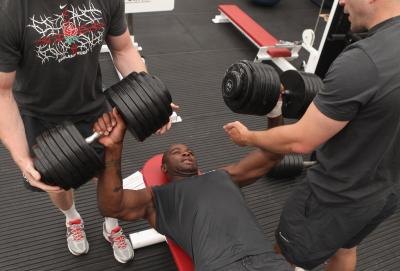 (David Rogers/Getty Images Sport/Getty Images)
The benefits of fascia tissue stretching are numerous and extend beyond increasing room for muscle growth. Stretching forces more oxygen to the chest muscles, promoting growth. It also realigns the collagen fiber in muscles and increases overall health by stimulating the body's lymph system, which drains waste from the cells. Contributing to the health of the muscles burns more body fat for greater symmetry. Increased peak performance and prolonged durability during chest bodybuilding also are end results.
If you experience tightness in your chest or pain in your chest and arms, consult a physician before embarking on stretching exercises or continuing a chest-building workout routine. You may be experiencing a symptom of an impaired circulatory system. In addition, stretching the chest fascia tissue affects the pectoralis major but not the pectoralis minor. If a doctor finds the pectoralis minor muscle to be the source of discomfort, chest stretching cannot help, notes health science writer Paul Ingraham, as this muscle may be stretched only by lifting the scapula.
Overt pain may signal you to consult a health professional before embarking on a fascia stretching routine, but other circumstances also would make doing so inadvisable. Chest fascia tissue stretching should be done after a chest-building workout, so if joints are strong enough to endure weight training, they are strong enough for 10 minutes of stretching. Do not rush into stretching, however, if you are recovering from an infection or a vascular injury. Stop stretching if you experience extreme pain during the process, and consult a physician.
BodyBuilding.com recommends specific exercises proven to stretch fascia tissue in the chest. In the dumbbell fly stretch, performed from a supine position, exercisers hold a dumbbell in each hand and contract the chest muscles every time they make their hands meet at mid-chest. Chest muscles expand and stretch with every arm extension. The cable crossover stretch also opens up the chest in a similar way, but instead of lying on their backs with dumbbells, exercisers stand between two cables attached to universal weight machines. Crossing the cables in front of the chest contracts the muscles, and extending them behind the body stretches the fascia tissue.
Promoted By Zergnet