Delayed onset muscle soreness, or DOMS for short, is a common side effect that occurs after a new or vigorous workout, including yoga. It typically occurs within 12 to 48 hours after exercise. Unless the muscle soreness is an indication of something more serious, the pain usually subsides within a few days to a week.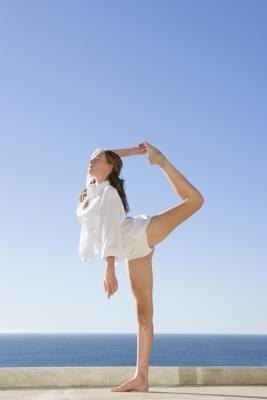 (Jupiterimages/Polka Dot/Getty Images)
The mild pain, stiffness and reduced mobility associated with DOMS are caused by a variety of factors. According to a study published in a 2003 issue of "Sports Medicine," DOMS from exercise can be caused from any one or a combination of the following: lactic acid, muscle spasms, connective tissue damage, inflammation and enzyme efflux theories.
When DOMS occurs, the Mayo Clinic recommends moderate exercise to reduce the pain. Non-steroidal anti-inflammatory drugs, commonly referred to as NSAIDs, have been shown to effectively reduce muscles soreness. In addition to pills, NSAIDs are available in other forms, such as gels, creams and patches.
For a natural approach to relieve sore muscles after yoga, "Yoga Journal" recommends taking a warm bath mixed with 2/3 cup baking soda and 1/4 cup ginger powder. Ginger promotes blood flow to the muscles and baking soda eliminates toxins.
Prepare ahead of time to prevent DOMS. Gradually increase the intensity of your yoga poses, so you build up your muscles at a reasonable pace. Get at least eight hours of sleep. Stay hydrated by drinking enough water. The Institute of Medicine suggests women drink 9 cups of water per day and men drink 13 cups of water per day.
A study published in the March 2009 issue of "Clinical Journal of Sport Medicine" suggests that consumption of omega-3 fatty acids may reduce delayed onset muscle soreness.
When soreness lasts longer than a week or if redness and swelling are apparent around a sore muscle, make an appointment to see your doctor. This could be a sign of an infection. The Mayo Clinic suggests immediate medical care if you are experiencing dizziness, difficult breathing, severe muscle weakness or a high fever accompanied by muscle stiffness in the neck. Call your doctor if you experience any of the following: pain that indicates a muscle strain or rupture; sudden, recurring or intense pain; or muscle pain that occurs after taking pain medication.
Promoted By Zergnet