Whether you want to keep your muscles loose and limber for exercise or maintain flexibility and a full range of motion, doing stretches for your hips, glutes and hamstrings can be beneficial. In addition to helping you avoid exercise-related injuries, stretching these muscles can also prevent lower back pain. Be sure to see your physician before you start a new stretching or exercise program for your hips, glutes and hamstrings.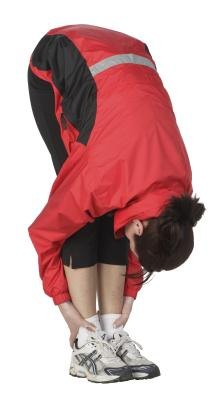 (NA/PhotoObjects.net/Getty Images)
Even through stretching is a gentle form of exercise, it's important that you warm up your hips, glutes and hamstrings before you stretch. Marching in place or walking for five to 10 minutes can loosen up tight muscles and prepare your body for exercise. Wear comfortable clothing that allows you to move through each hip, glute and hamstring stretch. If you're stretching at home, make sure you have sufficient space without any clutter that might get in the way or lead to an injury.
The way you stretch is as important as the exercises you to do stretch your hips, glutes and hamstrings. Ease into each position until you can feel the muscle stretching. While you should feel a stretch in your target muscle, there shouldn't be any pain. Remain still as you hold the stretch for 15 to 30 seconds. Don't bounce or try to force your muscles to stretch beyond their capabilities, as this can cause an injury. The more you stretch your hips, glutes and hamstrings, the farther you'll be able to stretch them as your flexibility increases.
Stretching exercises that target the hip and glute muscles can help you maintain a good range of motion in your lower body, while easing stiffness or tight muscles caused by strenuous exercise or an inflammatory condition such as arthritis. Perform the bird-dog, a hip flexor stretch while lying down, the kneeling TA stretch and a leg crossover stretch to lengthen and loosen the hip and glute muscles. Do the modified hurdler's stretch and seated straddle stretch to include your hamstrings in the your stretching workout.
To keep your stretching routine from getting stale, you can supplement your traditional hip, glute and hamstring stretching exercises with other forms of flexibility training. Tai chi, yoga and Pilates all provide effective ways to improve flexibility in your lower body muscles, and above the waist as well. If you're new to these forms of exercise, start with a class or see a trainer to learn the proper technique. Taking a yoga, Pilates or tai chi class can be a fun and effective alternative to stretching at home.
Promoted By Zergnet