Muscle soreness can develop if you begin a new workout program or increase the intensity of your normal fitness routine. Delayed-onset muscle soreness, which develops a day or two after a workout, results from actual muscle damage. Understanding different causes of muscle soreness can help you discern a more serious condition that requires doctor's attention. A combination of home remedies can help alleviate pain. Drink plenty of fluids during and after weight-lifting to prevent dehydration.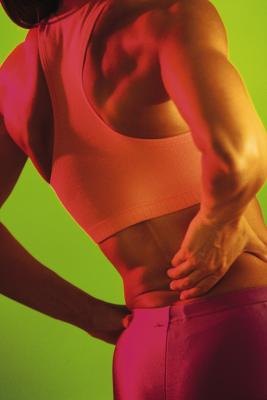 (Comstock/Comstock/Getty Images)
Stretching before and after weight-lifting improves blood flow to prevent muscle stiffness and tightness that can often occur after a workout. Massage helps to stimulate production of hormones known as endorphins, which reduce pain in the affected area. Post-workout massage also improves blood flow in the affected area, which prevents swelling and speeds up healing. You can perform a self-massage with your hands or visit a sports massage therapist after a strenuous weight-lifting session.
Anti-inflammatory drugs available over-the-counter, such as ibuprofen, can help alleviate inflammation and reduce pain in the sore muscle. Excess usage of anti-inflammatory drugs can cause liver damage, however. Do not use medication long term to alleviate muscle soreness -- also incorporate other remedies to enhance muscle recovery. Consult your doctor before using over-the-counter medicines for advice on usage to avoid negative side effects.
Cold and heat therapy are effective for treating muscle soreness after strenuous weight-lifting. For cold therapy, you could apply to the affected area a bag of ice, an ice pack or a bag of frozen peas or corn. You may even take a cold bath. Apply something cold on the sore muscle but do not apply ice directly to prevent skin damage. Use a towel in between your skin and the cold item. Use the cold therapy for 10 to 20 minutes as desired. After using cold treatment for a few days, heat treatment helps soothe the muscle. You can use a hot water bottle, heating pad or warm water on the affected area.
Engaging in light aerobic exercises can help speed up recovery by improving blood flow to the sore muscles. Engage in cardiovascular activities such as jogging, swimming and walking. Engage in 10 to 15 minutes of light aerobic exercises after a strenuous weight-lifting workout.
Resting after a strenuous weight-lifting workout is crucial because it allows the muscles to repair, heal and grow. You should allow at least 48 hours after weight-lifting before you work the same muscle group again. If you are still experiencing muscle soreness after trying a combination of remedies, see your doctor as there may be an underlying issue.
Promoted By Zergnet