Yoga asanas for the ankles create flexibility in the toes, heels and muscles of the feet for increased agility. Flexibility and dexterity of the ankles also prevent sprains during athletic performances. Developing ankle strength with yoga also increases awareness of the position of the ankle when maintaining balance. Awareness also decreases the possibility of spraining the joint. Finally, many asanas can be performed individually outside of an entire yoga program to focus on foot and ankle strengthening. If you are experiencing ankle pain, however, seek the advice of a physician before attempting ankle exercises.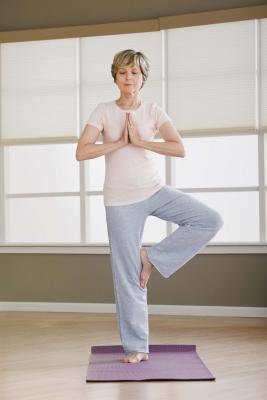 (Jupiterimages/Comstock/Getty Images)
Virasana or the hero pose is an asana for meditation. Kneel on the floor and touch your inner knees together. Slide your feet out so that they brace the sides of your hips and the tops of your feet are flush with the floor. When done properly, your buttocks will be flat on the floor and rest between your upturned heels. Virasana strengthens feet muscles by stretching the tops of the feet and ankles and recreating the arches. According to Pam Werner of the Sun & Moon Yoga Studio, this pose may be repeated over a period of time to realign the tarsal bones.
Malasana or garland pose is a basic squat with knees up and feet flat on the floor. Press your knees into your chest and make sure not to lean forward. Keep the back as straight as possible. This pose, like Virasana, stretches the ankles, as the torso and back relax into a seated position. Malasana, however, also strengthens the ankles as they work in tandem with muscles in the back, abdomen and groin to bear the weight of the upper body.
Sukhasana or easy pose is the asana that may first come to mind when you think of yoga because it involves sitting "Indian" style, palms upward with the thumb and index fingers touching. When done correctly, the back remains straight and the legs are crossed at the shins with each foot tucked underneath the opposing knee. According to "Yoga Journal," this stress relieving position is an ankle stretcher.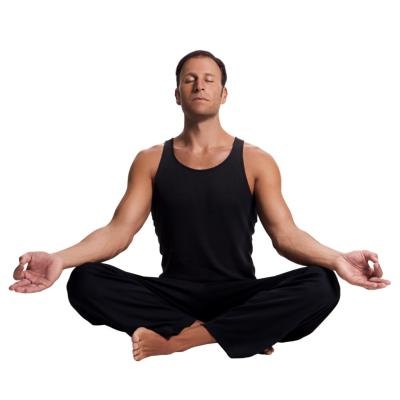 Thinkstock Images/Comstock/Getty Images
The natarajasana is also referred to as "The Lord of the Dance" pose. The gracefulness of the position aligns the toes and fingers from the same side of the body. The torso bends upward as toes and fingers meet in the air above the buttocks. To maintain this stance, body weight and balance are shifted to one leg, thereby strengthening the ankle of the supporting leg.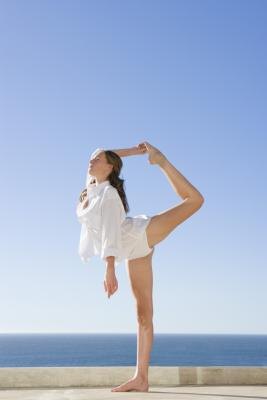 Jupiterimages/Polka Dot/Getty Images
Promoted By Zergnet