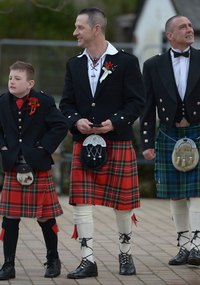 The choice to wear a kilt equates with a decision to attract attention, regardless of the history and lore. Long-standing tradition suggests wearing sturdy, polished and high-laced black shoes with kilts; these days trend-setters also might wear kilts with designer sneakers or variations on biker or hiking boots.
History
Long before kilts became the ceremonial and sartorial statements they're viewed as today, they served utilitarian purposes for Scottish hunter-gatherers and warriors in the 16th through 18th centuries. The kilt styles that modern-day men wear at Gaelic-themed weddings or in bagpipe processions became entrenched in the 19th century. Since then, shoes known as Ghillie brogues have been embraced as the appropriate footwear to wear with kilts.
Ghillie Brogues
The shoes most consistent in honoring the tradition of wearing kilts are distinguished by their lack of tongues beneath the laces. The Ghillie brogue design -- featuring laces that rise just below the knees -- dates to needs men once had to ensure their shoes would not sink into soggy turf and come loose from the feet. The absence of tongues on Ghillie brogues also fosters faster drying of the shoes in case they get wet. Traditionally, Ghillie brogues are black and rise just high enough to reach the ankles.
Ghillie Guidance
Kilt aficionados worldwide recognize that Ghillie brogues should be kept polished; they can be enhanced with shiny silver buckles and laces that are not frayed. Thin, calf-high white socks are recommended for dressy occasions, and thicker, short black socks are appropriate for casual wear.
Trends
Fashion designer Marc Jacobs stands at the forefront of men who wear kilts for comfort and utility. He starred in a European advertising campaign for Diet Coke wearing a solid black kilt, black designer sneakers and low-rise black socks. Headline-grabbing rap artist Kanye West shows an affinity for wearing solid black kilts with leathery black legging and high-top black sneakers.