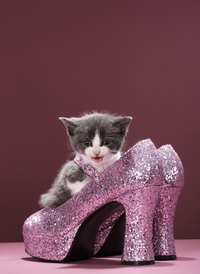 If you're facing a closet filled with worn-out shoes -- or too many pairs that look alike -- don't think your only option is to throw them out or donate them. Revamp those four pairs of identical black flats and end up with something completely new. Some creativity and simple supplies from the craft store can transform even worn or scuffed shoes from trash to treasure.
Clean and Buff
If you have shoes that are just a little bit worn and scuffed, use leather conditioner to clean and nourish the leather, followed by polish in the same color as your shoes. Buff the polish thoroughly to heighten the shine.
Change the Color
If you want to change the color of your shoes entirely, you'll get the best results with leather dye, not leather polish. Leather dye kits provide cleaner to remove old wax, and dye to color the leather, along with a sponge and cloth. The dye can change a lighter-colored shoe to a darker color, but not vice versa.
Go for Glitter
Cover an entire leather shoe in sparkly glitter or jazz up just one section. Glitter works best on plain styles, such as pumps or ballet flats, and can take them from boring to special. Cover the shoe with a thick layer of clear-dry craft glue. While the glue is wet, pour glitter over the surface, making sure to cover all areas evenly. Let the glue dry completely, then spray the shoes with a coat of clear gloss acrylic sealer. Let the shoes dry overnight before wearing them.
Designer Decoupage
Create a whole new look with decoupage. Cut out designs from gift wrap, scrapbooking paper or magazines. Coat the shoe with craft glue, then cover the shoe with your favorite designs. Finish with a coat of glue to hold everything in place, then spray with gloss acrylic sealer for shine.
Pretty Prints
Cover a pair of shoes in a pretty fabric. Use thin fabrics, such as cotton or silk, and smooth the fabric over the shoe. Cut the fabric as needed to cover the whole shoe.
Paint a Pump
Use fabric paint on shoes to create stripes, dots, zigzags and geometric designs, or paint flowers, animals or any other pattern you like. Finish with a coat of clear gloss sealer to keep the paint from flaking.
Add-Ons
Update shoes by adding embellishments. Use a large needle, heavy thread and a thimble to attach buttons to leather or cloth shoes. Mix and match colors, create a button rainbow, or go black and white.
Just Bead It
Decorate a pair of boring shoes with colorful beads. Some craft glue and strategically placed glass beads can result in a one-of-a-kind design.
Just Clip It
An easy upgrade is as simple as clipping a large fabric bow to the heel or toe of your shoe. Suit your mood with sweet flowers or a bold gold buckle atop a plain shoe.
Tacky and Trendy
Give wedge shoes with cork or soft soles an entirely new look by painting the surface with craft glue, then pushing metallic thumbtacks into the wedge area until it is entirely covered. Make sure the tacks don't extend below the bottom of the shoe.