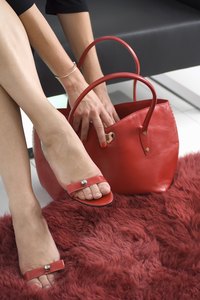 If your shoes are taking over the bedroom closet and your handbag collection spills over into the hall or linen closet, you need some storage solutions. When your collections start growing out of control but you cannot stand the thought of giving your prized shoes or purses away, there are many storage options. Use clever spaces and hit the home improvement store to keep your purse and shoe collections neat and organized.
Closet Organizers
Instead of relying on a single shelf and limited amount of floor space to keep your shoes and purses tidy, install a closet organizer. Closet organizer systems are available in a variety of colors, sizes and price points at home improvement and hardware stores. Measure your closet before purchasing, and find an organizer that fits your needs and budget. Consider hanging an additional bar in the closet to accommodate your handbag collection. If you have several pairs of shoes, choose organizers featuring multiple shelves. If you're not handy, several companies will install their closet systems for a fee.
Over-the-Door Organizers
Use every amount of available space in your bedroom by installing over-the-door organizers. There are many organizers designed specifically to hold shoes. An over-the-door organizer featuring several hooks easily accommodates your purses too. Consider hanging an additional unit over a mudroom door to keep shoes, school bags and purses off the floor. Over-the-closet organizers are also ideal for keeping children's shoes neatly organized.
Under the Bed
Many overlook a large amount of useable floor that's literally under their feet every night -- the space beneath the bed. Home improvement, bed-and-bath and hardware stores sell a variety of containers and organizers specifically designed to fit under the bed. If you have a large collection, consider raising your bed to accommodate all the pieces. If you're short on funds, several pairs of shoes and multiple handbags will fit in a shallow storage bin or cardboard box.
Hooks
Hooks are an inexpensive option to keep your expanding purse collection off the floor or out of the closet. If closet space is limited, hang rows of hooks on any empty wall space. Decorative hooks allow you to transform your handbags into a unique focal point in the bedroom. If you keep multiple handbags next to the front door, hang them from a coat tree.
Seasonal Storage Ideas
If your closet space is minimal, or your shoe and handbag collections are simply too large, consider dividing your collections by season. Label separate storage bins according to the season, and organize your shoes and handbags accordingly. Prevent the unpleasant odor often created by storing used shoes by placing a small sachet filled with potpourri in storage bins. Lifting the bin's lid periodically and allowing the shoes to air out also cuts down on odor issues.