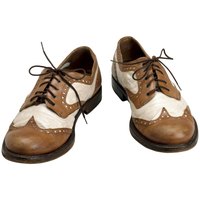 Your wingtips, with their distinctive stitching and graceful winged designs, add a certain Victorian charm to your whole ensemble -- but you can trace their origin farther back through history. The modern wingtip's ancestor was a primitive rawhide shoe worn in 18th century Scotland and Ireland. The shoe evolved for over a century among the English nobility and the middle class of London before it became the shoe you know today.
Irish and Scots Origins
The wingtip's earliest ancestors were worn in Ireland and Scotland. These rugged predecessors, known as brogues, employed double-thickness leather and perforated designs. Although English lore claims these perforations were to drain water after walking through bogs, some historians disagree. Perforations, or broguing, may have been solely decorative. The stories about draining water may originate from the observations of English writer Samuel Johnson, or they may be nothing more than folklore.
Samuel Johnson's Travels
Samuel Johnson documented brogues in Scotland as early as 1773. There, he encountered both crude, loosely stitched rawhide brogues that would last only a few days, as well as more durable brogues made from tanned leather. Johnson noted that broguing was a common feature among otherwise differently crafted and styled brogues, and that a brogue-maker was a skilled craftsman who might sell his wares for as much as half a crown.
English Wingtips
The ruggedly constructed brogues suited the landed aristocrats on the country estates of the late 18th century. The shoes' modern pairing with the suit, then considered country clothing, and their shift toward more ornate wingtip designs took place at this time. Those migrating from the country to London brought their fashions with them. By the 19th century, the city's emerging mercantile class emulated country fashions as London grew into a center for gentlemen's tailoring and fashion.
Wingtips in the United States
Wingtips immigrated to the U.S. in the late 1910s, but only caught on when American soldiers returned home from World War I seeking footwear similar to the comfortable English oxfords. Wingtips also became sports shoes, especially among tennis players, and the athletic style soon spread to sports spectators as well. Hollywood's influence and the shedding of the suit's country associations further endeared the wingtip to men, making it a staple among professionals and fashion aficionados everywhere.