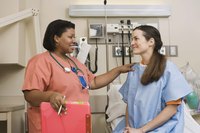 Jobs in the health-care field can have demanding schedules, because hospitals and other care facilities operate around the clock to treat illnesses and injuries as they occur. Employees in the field sometimes work shifts that are longer than standard eight-hour days, which may lead to them working more than 40 hours in a week. Labor laws require health-care facilities to pay certain workers extra for overtime hours.
Overtime Pay Basics
Overtime and minimum wage laws were established by the Fair Labor Standards Act. This law generally requires covered employers to pay workers at a rate of one and a half times their normal pay rate for hours worked beyond 40 in a single workweek. According to the U.S. Department of Labor, institutions primarily engaged in the care of the sick, the aged or the mentally ill are covered employers, meaning that hospitals, nursing care facilities and other health-care providers have to comply with overtime laws.
Exempt Employees
Although health-care facilities are subject to overtime work laws, certain employees are exempt from the FLSA, so they do not have to be paid extra for overtime work. Workers holding a valid license or certificate to practice medicine are exempt, as are employees with an academic degree for the general practice of medicine. This means educated and credentialed health-care workers -- including physicians, surgeons, physical therapists and registered nurses -- are generally not eligible for overtime pay by law. An employer can choose to pay exempt workers extra at its own discretion.
Eight and 80 System
Employers in the health-care industry have the option of using a special system, known as the eight and 80 system, for calculating overtime hours. Under the eight and 80 system, work periods last 14 days instead of one week, and workers are paid overtime for any hours worked beyond eight in one day and for hours worked in excess of 80 during the 14-day work period. An employer can choose to use the normal 40-hour system and the eight and 80 system for different workers at the same facility.
Bonuses and Shift Differential
Health-care facilities may offer additional pay to workers who take shifts at off hours or reward such workers with bonuses. Shift differential pay and nondiscretionary bonuses have to be included in a worker's regular pay rate when calculating overtime pay. Nondiscretionary bonuses are those offered to encourage employees to work more efficiently or discourage them from quitting.