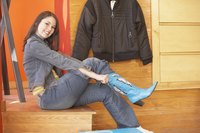 Everyone has their favorite accessories or a special piece with a pop of color just waiting to be plucked from the closet and worn. But certain pieces should really be worn with specific basics. Bold accessories in a color such as turquoise are most flattering and stylish when they're the center of attention.
Turquoise and Black: A Match Made in Heaven
A go-to color suited for special accessories in a bright turquoise hue is black. Don't be afraid to keep the entire outfit black, as this will give the accessories the most drama and keep the attention focused. It's an ideal pairing for professional environments and business occasions as well as a night on the town.
The Right White
Suppose it's a warm spring or summer day and you're dying to wear that turquoise hat and shoes. Pairing these with a white dress, skirt and blouse or suit will keep things fresh and light for hot climates. Turquoise is considered mostly a summer or spring color, and white brings this color to its fullest potential as a seasonal hue. For backyard barbecues, tropical vacations or even just a warm Tuesday, white is the way to go for your turquoise accessories.
Neutrals
Black and white are fine for crisp contrast, but neutrals like beige, khaki, cream and grey also provide beautiful backdrops for pops of turquoise. What might ordinarily be blah, boring colors, take on new life when accessorized with a bright color. Take a grey dress from hum-drum to ta-da with your turquoise hat and shoes.
Prints and Color
Prints in a neutral palette, such as a black and white stripe, can be really sharp with turquoise pieces as well. Colors can also be pleasing with bright accessories but must be chosen carefully. Turquoise with either red or orange will be bold and bright, perfect for salsa dancing but not ideal for lunch with the boss, so be sure to keep the occasion in mind.