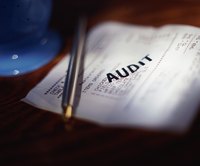 Disclosure of information is critical to the auditing process from beginning to end. Accounting employees disclose all financial information to auditors before an audit, and auditors disclose all findings from the audit after it is completed. Without disclosure, auditors cannot ensure that their findings are correct, making the audit worthless to a business and its investors.
Information for Auditors
Auditors require access to a business' financial transactions and records to conduct a legitimate audit. Part of the disclosure process is making all of the materials needed for the audit available to the people creating the audit. For instance, an auditor may need all of a business' invoices and books for the year to calculate the total revenue earned from operations. When the accounting department of the business hands over the general ledger and invoices, it discloses information to the auditor.
Internal Disclosure
Finished audits are typically shown to managers and executives in a business so they may compare the financial findings of their accounting employees with those of the auditors. This internal disclosure provides valuable insight to decision makers in a business regarding the accuracy of the business' financial reports. For instance, internal audit report disclosure may reveal that money is missing in a business' books. Without the internal disclosure of an audit, accounting mistakes might go unnoticed, causing financial problems for a business later on.
External Disclosure
External disclosure of audit reports occurs when investors, stockholders and other third parties gain access to the information within an audit. Individuals who have money invested in a business and others who want to invest in the business in the future look at the information disclosed in audits to make decisions about their finances. Audits reinforce the information found by a business' accountants and ensure that investors have an accurate picture regarding the health of a business.
Considerations
Full disclosure in the auditing process keeps finances and operations transparent, allowing others to compare the company's information with that of the auditor. If auditors catch accounting mistakes before a business files its income tax returns, the business might save itself from a possible audit from the Internal Revenue Service. Unlike a third-party auditor, an IRS auditor will impose penalties and fines for accounting errors.