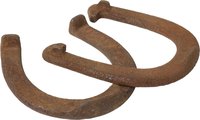 Farriers are specialists in caring for horses' hooves, in particular trimming the hooves and then shoeing them. Farriers must understand horses' habits and anatomical structure in order to care for them, and must possess the smithing skills to be able to shoe them. Although there is no single organization in the United States that oversees farriers and their practice, three independent organizations exist to test and certify farriers. These organizations are the American Farriers Association, the Guild of Professional Farriers, and the Brotherhood of Working Farriers.
Farriers
In the past, blacksmiths often performed the same tasks as farriers, and some blacksmiths specialized in tasks relating to horses and horseshoes. Farriers eventually came to specialize in caring for horses' hooves and horseshoeing. Farriers trim and shoe horses' hooves for for normal use, but also for medical and even cosmetic purposes. Some farriers even run sideline businesses related to horses but unrelated to their main business.
Business Model
Farriers tend to operate as sole proprietors who hire out their services to horse owners as paid contractors. Although this business model offers the farrier considerable independence, that same independence means that a farrier is responsible for running all aspects of the business. Farriers who work as employees for larger organizations do exist, but tend to be much rarer than their independent counterparts.
Revenues and Expenses
Since farriers are free to set their own prices, their revenues vary considerably based on their prices and the amount of work they get. Prices for trimming a horse's hooves average around $25 to $30, while shoeing a horse averages around $80, according to the website Alpha Horse. Butler Professional Farrier School says that combined fee for trimming and shoeing usually is about $105. Farriers' expenses also vary considerably based on their clientele and their business practices. Farriers incur expenses such as the cost of supplies and the cost of transportation in order to provide their services on-location, as well as expenses such as the cost of insurance and utilities in order to keep their businesses running.
Income
Farriers' income is calculated as being revenues minus expenses. Since farriers tend to operate as sole proprietors, their expenses include all costs spent in order to run their businesses. According to Butler Professional Farrier School, a full-time experienced farrier in the U.S. earns about $92,000 on average in annual revenues, working with an average of 267 horses, seeing each approximately seven times a year. Once expenses are taken into account, the average income for a full-time farrier three years after graduation is $35,624, while the average for a full-time farrier five years after graduation is $67,200. Although these are promising figures, they are not guarantees due to the large variability in the revenues and expenses of different farriers, and the demand for farrier services in different geographical locations.