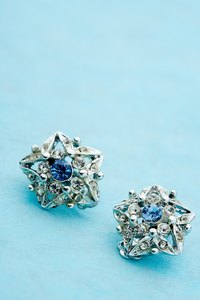 Jewelry puts a finishing touch on any dress. Without accessories, the overall outfit can look plain and incomplete. Instead of sporting a boring dress, use jewelry to complete the look. Because of its versatility, jewelry can increase a dress's elegance or a dress's funkiness. It all depends on you and your personality.
Color
The jewelry's color must match the outfit's. Use the color wheel to determine which colors work the best. For example, colors that are next to each other in the color wheel look great, as well as colors that are stark opposites. For example, if you are wearing a mint green dress, pair it with turquoise stones set in silver jewelry. On the other hand, you can complement the green color with fiery red rubies.
Occasion
If you are attending a formal dinner, consider wearing precious gemstones such as diamonds, sapphires or emeralds. Match together diamond studs, a white gold necklace, a black cocktail dress and black pumps.
Amount
Sometimes, less is more. Putting on a mountain of jewelry may seem like a good idea, but a pair of diamond earrings or an elegant string of pearls speaks more than gold chain upon gold chain.
Personality
If your dress is over the top, you have two options. You can either play up the dress with fun jewelry, or you can tone it down with serious jewelry. A great place to buy out-of-the-ordinary jewelry is from local artists. Buy some glitzy bangles or wire-wrapped rings and necklaces. On the other hand, you can let the dress do the talking with a pair of pearl studs.